"What are you doing again?", you ask?
I'm doing another "Multi Cruise and/or Land Tour" Vacation of course! 😉 
If you have no idea what I'm talking about, then check out this blog post to see something I've done (as have a lot of my clients) many, many times to save money, make my vacations even better, etc… and to make myself sound REALLY interesting at parties/social get-togethers! 😉 
Alright, so what is it this time I'm "combining" you ask?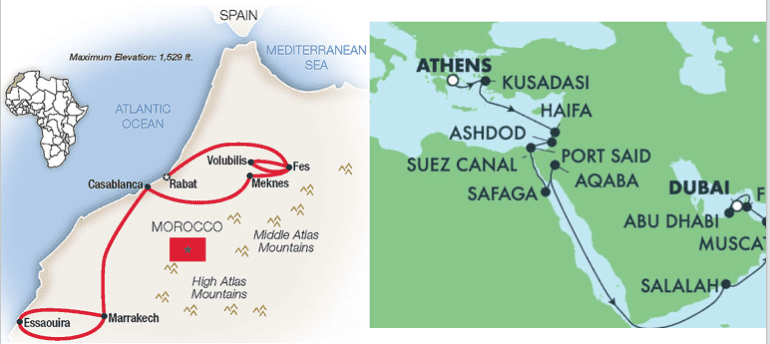 Well, 3 weeks ago I flew into Casablanca, Morocco where I spent 3 extras days in Rabat (As I talk about here you ALWAYS want to arrive early for your cherished trips!!) & 2 extra in Marrakesh before/after taking part in this 10 day Tauck Land Tour 
And WOW, what a Great Tauck Land Tour it was!!
And then, after 2 weeks in Morocco, I flew to Athens, Greece to meet my sister & sister-in-law to do a 19 Night Cruise on "Norwegian Jade" (I just got on the ship 3 days ago) between Athens & Dubai where we're visiting places like Turkey, Israel, Jordan, Egypt, Oman, Abu Dhabi, etc. As I talk about here, that was another GREAT destination!!
And as per this blog post, as always, I feel like doing these "Multi-Cruise/Land Tour Trips" is a GREAT idea!!
Again, rather than spending $4,000-$5,000 to fly to Morocco & back this year and then say into Athens/out of Dubai next year, I spent the money on air just one time to do these 2 trips… yes, I had to pay to get from Marrakesh to Athens but that was only a few hundred dollars.
And, since I've already been away for 3 weeks/have 3 weeks to go, I'm used to the time zones, I'm more relaxed/into "Vacation mode", etc.
Again, if you've never done a "Multi-Cruise/Land Tour Trip" like this you have to try it sometime… I talk about all the benefits of doing so here! 😉 
Alright, we just got to Haifa so are heading into Jerusalem & Bethlehem to check it all out!!
To all my US clients, "Happy Thanksgiving" Next Week! 🙂
I Appreciate You!
Shawn Power
Your Trusted Cruise & Tauck Tour Expert!