In 2009 when we did our 1st ever Cruise to Europe we did a "Baltic Sea & Russia" sailing… Very Nice!
In 2010 we turned around & headed right back to Europe but that time we did a "Mediterranean Sea" Cruise… Absolutely Beautiful!!
So when it was time for us to head back to Europe again this year, we wanted something unique, so right away we knew our next stop would be a "Black Sea" sailing. (And to make it even more special, we Cruised there on 6 Star "Crystal Cruises Cruiseline"… you can read our review of Crystal Cruises here)
Now at this point, you may be asking yourself, "Where's the Black Sea?"
If so, no worries as we asked that same question not too long ago. 🙂
By the way, that's a highlight of a Black Sea Cruise… as not everyone knows about it, it's not as popular as the above 2 mentioned Europe destinations & all the Cruiselines don't go there so it's not near as busy as the Mediterranean for example but it still has lots of the same offerings like fascinating history, amazing architecture, unique cultures, great weather & beautiful beaches!
Okay, back to where is the Black Sea?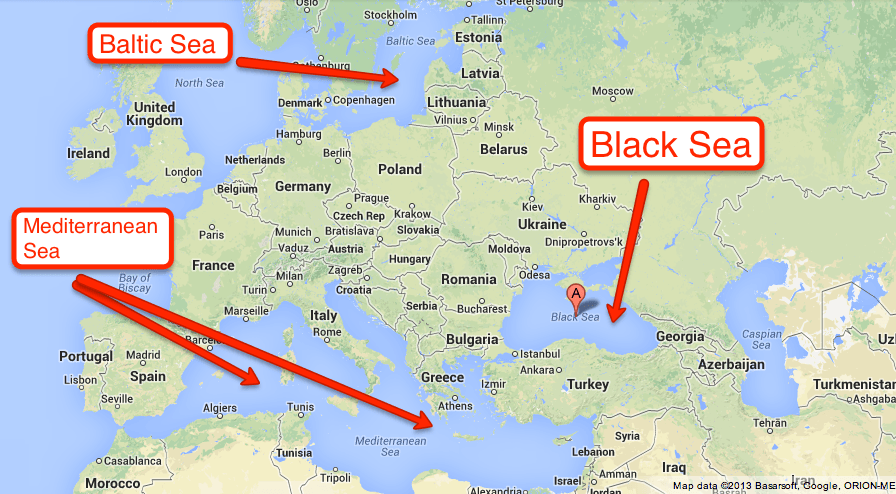 .
It's a Sea in South-East Europe that's bordered by Russia, Ukraine, Turkey, Bulgaria, Georgia and Romania.
The Black Sea is connected to the Mediterranean Sea by the Aegean Sea and several Straits, the most famous of them, the "Bosphorus Strait".
To get to Cruise through the Bosphorus Strait is in itself almost a great enough reason to visit this region as, not only are the views of Istanbul fabulous from your ship when Cruising through here, but it's such a unique waterway as it divides Istanbul, Turkey's Europe side from it's Asia side.
That's something else we also didn't know till recently, that Istanbul sits on 2 continents, the only city in the World that can claim that!
Speaking of Istanbul, what a fabulous city!! Between the Blue Mosque, Haiga Sophia, Topkapi Palace, The Grad Bazaar, The Spice Market, the calls to prayer, the great food, the friendly people, etc. it's one of the coolest cities we've ever visited…
…and the great part about a Black Sea Cruise is most of them start and/or end in Istanbul.
Anyways, that fascinating city deserves it's own blog post so you can read more about Istanbul here. 🙂
So as mentioned, many times a Black Sea Cruise starts and/or ends in Istanbul.
For those Black Sea Cruises that only start or end in Istanbul though & not both, they usually start or end in Athens, Venice or, where we started our 12 Night sailing from, Rome.
Again, as Rome is such a great city like Istanbul it gets it's own blog post which you can read here but now's a great time for us to talk about the 2 ports outside the Black Sea we stopped at and then we'll cover the 4 we visited on the Black Sea's coast.
(If you want to see more extensive pictures & some videos of our stops along the Black Sea then visit our Black Sea Cruise Picture & Video Gallery)
Sorrento, Italy– As Sorrento is in Italy, it's definitely not a Black Sea port, but either way it's a great stop if you happen to be going there to/from the Black Sea! (FYI, it's featured on many Mediterranean Cruise itineraries)
If it's your 1st time in this region for sure you need to visit the ruins of Pompei or the Amalfi Coast, or even better, both! And that's what we did our 1st time in the region in 2010 which you can check out here Pompei and here Amalfi.
But if, like us you've been here already, for sure take a stroll through this scenic, hillside/seaside town and enjoy what the relaxed Italian lifestyle is all about.
Like you see in movies & magazines, Sorrento features charming narrow cobblestone streets where people take the afternoons off to relax and everywhere you go you can buy fresh fruits, meats, cheeses and of course, Limoncello which is famous in this region.
Taormina, Sicily, Italy– Like Sorrento, Taormina isn't a Black Sea port but if it happens to be on your Black Sea itinerary (or Mediterranean itinerary if you're doing one of those) count yourself lucky as it's one of the prettiest places you'll ever visit! We won't go into too much detail here as we visited here in 2010 and wrote a blog post about it which you can see here, Taormina, but like last time we leisurely strolled through Taormina's  pedestrian-only area & enjoyed some Italian beers & lunch while enjoying the most breath-taking views you can imagine!
Constanta, Romania– So, after making our way from Rome through the Mediterranean Sea & through the Bosphorus Strait, we entered the Black Sea & made our 1st stop in Constanta, Romania.
Constanta features the largest port in the Black Sea, so lots of shipping happens through here, & it's the 2nd biggest Metropolitan area in Romania after Bucharest.
With that said, the most interesting thing about
Constanta that struck us was that it felt so undeveloped…  we walked all over town and in many places it was very dirty and dusty & looked like an earthquake recently hit it or it was the middle of a war zone.
Don't get us wrong, it's developed there too & they have malls and the such and historic sites like Ovid Square, a historic Casino, St. Peter & Paul Orthodox Cathedral, a Mosque, etc. but these things were surrounded by some pretty questionable looking areas where it was no big deal to have huge holes in the ground, electrical wires hanging everywhere & buildings falling apart.
Those things certainly added to it's mystique & make you imagine what it must have been like here when it was heavily targeted & attacked during World War II.
Now, if you've been to Constanta already or visiting the city isn't a big interest for you, you can visit the ruins of Histria, about 1hr outside of town, or you can go to a spa to enjoy a famous mud bath that is extremely popular in Romania… the Mud Bath excursion fills up fast though so book early if interested!
Odessa, Ukraine– Our next stop during our Black Sea Cruise was in the Ukraine and, almost the opposite of Constanta, it was surprising that after being involved in many wars over the centuries, Odessa has cleaned up as well as it has. What a pretty seaside port that vacationers from all over the world like to visit… particularly for its spas and again healing mud bath.
As soon as you step off your ship at the port, you'll see the Potemkin Stairs known as the "Gateway to Odessa"… a great place not only for a photo stop but you can get a little workout here too by climbing it's 200 steps… Nancy counted them! 🙂
At the top of the steps you'll run into "Primorskiy Boulevard"… for sure one of the prettiest places in Odessa this is a wide pedestrian-only street that's lined with beautiful trees & benches for people watching and has some uniquely designed buildings all along it's path. And we saw several couples getting their weddings pictures done along the boulevard that day too so that was nice!
All around Odessa, this beautiful city has a sprawling number of parks, monuments and attractions for you to enjoy on a leisurely walk about.
Yalta, Ukraine– Our next stop during our Black Sea Cruise was again in the Ukraine but unlike Odessa, which is a major city with over a million person population, Yalta was more of a seaside resort town.
There were people there from all over the Ukraine, Russia, Romania, etc. enjoying a short summer get-away which definitely brings lots of energy & excitement to this small town.
For sure one of the biggest highlights in Yalta is the seaside promenade, which you can access directly across from where your ship will be parked so a short 10min or so walk. It  featured restaurants, bars for a cool drink, tons of shops, a starting point to scenic boat tours and even a Carnival is set up along this path to enjoy rides & games.
But don't get us wrong, Yalta isn't just leisure & fun & games, there's lots of history there too.
You can visit fairy-tale like castles (The Swallows Nest), museums, beautiful gardens & cathedrals… there's definitely something for everyone when visiting Yalta!
Sochi, Russia– Have you ever heard of Sochi before? If not, you will soon as in less then 6 months, in early February, Sochi is hosting the 2014 Winter Olympics… we're looking forward to checking that out as the last Winter Olympics here in Vancouver was pretty awesome so we're hoping for another great event!
Now one important thing to know about Sochi when visiting during a Black Sea Cruise (and this goes the same for visiting St. Petersburg in Northern Russia) is that if you don't have a Russian Travel Visa you can't get off the ship… unless that is you do a ship sponsored Shore Excursion that includes your visa. Or of course you can do a tour through a 3rd party company like the ones we mention here.
As the sites in Sochi are spread out your best off doing a tour here anyway so our advice would be don't bother to get a Visa and try to do your own thing here… it's not worth the time & money to get the Visa.
What are some of the "must sees" in Sochi? Madesta Springs, the Winter Theatre, the Cathederal of St. Michael's the Archangel & Joseph Stalin's "Dacha" which is a really fancy word for cottage. 🙂
So there you go… our look at the 2 Italian & 4 Black Sea ports that we visited during our 2013 Black Sea Cruise on Crystal Symphony… if you want to hear our thoughts on Crystal Cruises you can do so here.
And if you want to see what our trip looked like through pictures & videos then visit our "Black Sea Cruise" on Crystal Cruises Photo & Video Gallery.
By the way, here's 2 final things we really like about the "Black Sea":
1. As there's a lot of ground to cover, most itineraries are much longer then a week… usually 10-14 nights… which is great in our opinion as to fly to Europe for just 1 week & have to deal with the jet-lag is crazy in our minds.
2. As the ports can't accommodate the ships that hold thousands, it's mostly the smaller ships offering their premium, upper-premium & luxury options that sail there (like Crystal, Regent, Silversea, Seabourn, Oceania, Azamara, etc.) so it's a place that not only will you love the destination but the traveling there in fine-style will make your trip that much better! 🙂
So, are you ready to enjoy your own Black Sea Cruise?
If so, contact Shawn today and he'll help you figure out which itinerary/ship is going to work best for you.
We appreciate you!
Nancy & Shawn
Your Trusted Cruise Experts!