**If you'd like more details on what a Tauck Land Tour is like and why I exclusively sell Tauck when it comes to Land Tours, check out my post here**
Before we dive into our review of our "Portrait of India" itinerary with Tauck we have to say that so many people are hesitant about visiting India and say they would never visit but we have to tell you that those people are making a BIG mistake… as you will see from reading below!
That said, we get it.
The media portrays India in a negative light which creates misconceptions including people worrying about crime, not having the ability to eat familiar food, the poverty, etc., etc. but we have to say that these are just that- misconceptions!!  We can tell you from being in the Country & exploring for 3 weeks with Tauck that none of these things were an issue.
Without a doubt…
"India is a fascinating place to visit, the culture is enthralling and the people are gracious, friendly and most hospitable."
Another thing we would mention is that sure, you can travel around India on your own but if you want to take a trip to see and experience MORE and spend no time on logistics and worries then it is no question that you are better to leave it to the pros who have trekked this area for Decades and who have compiled the best India has to offer…
… Tauck goes out of their way to WOW you!!

 
They make sure guests stay in the best hotels in the best locations (in-fact three of the hotels are ranked among the 15 "World's Best") tastes only the best quality food, creates daily experiences that will stay with you a lifetime and meticulously takes you to the best points of interest all while having you lift no fingers. 
Even your luggage is cared for so you don't have to. (no waiting for bags at the airport- that is all handled while you are whisked away to sightsee) This is the way vacation should be! 🙂 
You will also have a Tauck Director who is well organized & very knowledgeable that stays with you the entire trip so that you don't have to think or worry (you do enough of that at home) they do all that for you so you can take in the sights. 
Tauck also has local guides join you in the cities you visit so you get the best "authentic & insider" take on the area so you can fully enjoy the sights, sounds and tastes around you. They truly do provide a "quality" vacation and you can tell that a great deal of thought goes into the plans & detail so clients will be over the moon happy to vacation with them again and again.
One more thing before we show you our pictures, give you some great tips to make your trip to India better than ours, tell you about where we went, what we did and saw…
Coming to India you really want to visit the various regions as no two are the same.  India is diverse in countryside, language, beliefs, traditions are unique and even the food and dress changes from region to region— so we were happy Tauck organized a tour to travel to different parts of India with the idea to get immersed into the broad culture.
Overall, our Tauck land tour to India exceeded our expectations.
.


A little about the Hotels we stayed in:
We cannot brag enough about the quality of the palaces and grand hotels we stayed in during our Portrait of India land tour with Tauck. We felt super special and spoiled. How could we not when we barely opened a door and the multitude of staff at every corner to give, get or take care of things for us was over the top.
In New Delhi at the Leela Palace hotel in particular we had a bath large enough for two which we enjoyed three times per day… no kidding!
Have a look at our pictures, the first one is us with a welcoming marigold flowered necklace arriving to the hotel, not too shabby for two people who just got off a 14 hour flight from Vancouver. lol
We've stayed in some elaborate hotels over the years but, as we mentioned earlier, three of the hotels we stayed in were ranked among the top 15 hotels IN THE WORLD and it is not hard to understand why when you walk into them. We think the pictures below are worth a thousand words!!
The Oberoi Udaivilas, check out our suite and hotel pics…
The Oberoi Rajvilas…
The Oberoi Amarvilas, where you'll have Taj Mahal views from your room, like this…
A little about the Food we ate:
Many people wouldn't dream of coming to India because they have a perception that the food is spicy hot, that they will have stomach problems or get very sick. This is highly likely IF you take a trip to India on your own and don't know what you are doing but for this trip with Tauck, where we were staying in palaces and beautiful hotels, we also ate at these places too and the food was of the highest and best quality. (that said, please read our "tips section" near the end about probiotics)
There are a lot of Indian dishes to try all westernized for our palates and we think that if you like rice, fish, chicken, lamb and vegetables or any combination, you will thoroughly enjoy the tasty preparations on the tour.
Throughout the blog you will see some of the Indian cuisine we tried and not only that you will also see some incredible dining experiences we had including "under the stars" feasts, water-side dining etc. Here is an example, check out the open-air views…
…we also experienced a couple parade spectacles to introduce meals the same as royalty were presented back in the day, the likes of which have created lasting memories for us- you'll see those pictures later!!
There is also a good variety of international cuisine throughout the trip too, have a look at some of the tasty food we enjoyed:
OK. OK. We like bread and sweets, don't judge!!!  HeHe 🙂
Another thing we wanted to point out was the fact that many of the dining experiences on tour, you could order from the "entire menu" not just a select small menu like we have experienced with other tour companies.
So instead of feeling like we were missing out, we could order anything off the menu we wanted and it again shows how Tauck is all about quality and not skimping on experiences. We were very impressed by that.
Here are the highlights from the Cities we visited:
Well, in true Tauck style, a Tauck representative met us inside the New Delhi airport with a "Tauck sign" and he escorted us 25 minutes to the beautiful Leela Palace (Pictures below)… and "Palace" it was!!
The rooms were more than comfortable, the quantity of staff on duty with their friendly "Namaste" welcome & willingness to make our stay pleasant was much appreciated.
TIP: If you arrive a few days early, use that time to enjoy the Leela Palace hotel amenities such as the large bath in your room and the spas facilities for its steam and sauna- you do NOT have to book treatments to use the facilities.
That said, if you wish, and we would recommend it, the India Ayurvedic treatments are some of the best spa treatments in the world… Nancy being a Massage Therapist for years will attest to this! The spa is not the cheapest but not as expensive as it would be at home. Try the 90 minute Abhyanga massage with the 30 minute Shirodhara scalp treatment (Nancy did this) OR the 4 handed Khiziswedana Synchronized Ritual- something unique to India.
New Delhi & Old Delhi
***Please note:  Starting in 2019 the tour in Delhi changes slightly (for the better in our opinion as Tauck is adding the extra day on in Mumbai instead of here and this way you will actually see more overall) but in Delhi you will still see all the highlights below just not exactly in the same order.
We met our Tauck Director Abi for a briefing about the details of our trip and he answered all of our questions while being super funny as he had us all in stitches laughing.
Then we had a local guide join us (see picture of her and Nancy below) and we had a great two days touring New & Old Delhi.
We skipped the heavy lines and checked out some of New Delhi's highlights like the UNESCO World Heritage Sites "Humayun's Tomb" (the inspiration for the Taj Mahal) and the "Qutub Minar" one of the tallest minarets in the world. See our pictures…
Speaking of the sites… right away on our tours in Delhi we noticed that Indian people we SO friendly.
You can tell from the picture below that Indians from small villages love having their pictures taken with foreigners when they get the chance.  In this picture below, this nice family made Nancy feel like a Rock Star!! 🙂 
We also had a touching visit to "Gandhi's Smriti" which is where he spent the last 5 months of his life and where he was assassinated. 
TIP: We recommend watching the movie called "Gandhi" before you go to India. It's long (3 hrs) but it gives a really good perspective of who this man was, the life he lead and some of the great work he did.
You'll learn that Mahatma Gandhi led India to become independent in the late 1940's through non-violent protest, a remarkable accomplished.
Check out these pictures:
On the first evening at the hotel we had a welcome reception with free flowing drinks followed by a traditional Indian food experience that was westernized to our palates and not spicy. 🙂 The food was delicious!! Only complaint was that it was a lot of food, so pace yourself.  Not much of a complaint we know. lol
Side note:  The buses we had for our entire trip were spotless clean. Ever been on a tour in a yucky bus… we didn't like it either!  Not with Tauck though.  We even had the same comfy bus and driver for 11 days at the start of our tour, equipped with a bathroom and at least one other person besides the driver to hand us water at every turn and be waiting for us with hand sanitizer. 🙂
Speaking of buses, the transfer was included even with us coming in 2 days earlier then the tour started which we appreciate as many travel companies will only include it if you arrive the day the tour starts…
And you know we always recommend an early arrival to get over the jet lag so you can enjoy the tour when it starts. No need to be dropping tired when visiting the sites ESPECIALLY when heading to this next city on our tour…
Varanasi
The following morning we took a quick 1 hour flight to one of the oldest living cities in the world—the city of Varanasi, India.
Our first stop on our way to The Gateway Hotel (considered the best hotel in the city) was to the ruins and Museum of Sarnath and the Dhamek Stupa which is a massive solid cylinder of bricks and stone signifying where the very first sermon was given by Buddha AKA the birth-place of Buddhism. No wonder practicing buddhists come from all over the world to pay their respects and pray here.
When you come here in person you'll get to check out India's tallest Buddha Statue too that's 80 feet tall, it's quite impressive!
Varanasi is one of those places NOT to be missed when coming to India as it is the spiritual capital of India that lies on the banks of the Ganges River.  It's THE city of all cities for Hindu pilgrims who come to Varanasi to bathe in the Ganges sacred waters and perform funeral rituals.
At dusk we sailed on the holy Ganges River to the cremation grounds (hundreds of cremations take place each day) and then witnessed the Aarti Ceremony that has been happening nightly for centuries to put the river to sleep…
…Amidst hundreds of lighted candles and flower offerings (we did one too, which was touching & unforgettable!) this evening was VERY special.
Of all the places we have been in the world (73 Countries to date) we have to say, that this was a first and exceptionally moving.  Varanasi is a place that can only be appreciated in person!!
Day time Varanasi
Returning back to the sacred Ganges, this time at sun up, with our well spoken guide (FYI, in India english is the first language taught in public schools so language barriers are minimal to non-existent here) was invaluable!
You cannot possibly walk these streets and have appreciation for what is happening around you without an experienced guide explaining softly in your ear (with the help of a portable ear piece so you can walk and learn at the same time) the how, what and why of what we were seeing…
This goes for the entire trip as well—our expert guide's explanations and personal stories were invaluable to our understanding and appreciation of this amazing country!
This morning our walk along the Ganges River bank was an assault on our senses and an experience we will never forget. 
A unique experience only to be had at the Ganges while pilgrims coming from various parts of the world, come to cleanse their souls or to help reach nirvana or for other spiritual objectives. No matter the reason(s), it was incredible to witness!
We first walked through narrow lanes to watch the holy city wake up (fascinating!) and along the Ganges River bank-side to see the early morning rituals and then back onto a riverboat to witness the sights in daylight from the devout source itself. 
Honestly, there are "no words" to describe this experience, best to show you some of our pictures and say "you HAVE to see this in person"…
Agra
Arriving in Agra after another short flight, we arrived to the luxurious Oberoi Amar Villas Hotel (pictures you saw above) for two nights, where you could see the Taj Mahal from our window sill… what a treat! We excitedly anticipated some breathtaking sights to come! 🙂 
In the morning after a good sleep we visited the famous Taj Mahal which was built by 20,000 people for the fifth Mughal who reigned from 1628 to 1658 named Shah Jahan. He starting building it in 1631 one year after his wife Mumtaz Mahal's death. She died while giving birth to their 14th child and he built this in her memory.
The Palace was constructed of the purest, most valuable white marble, 7-8 million people come to visit the Mausoleum each year and it is a UNESCO World Heritage Site that is one of the universally goosebump provoking, admired masterpieces of the world!
Straight after we visited "Agra Fort" not far from the Taj Mahal as it was where this couple lived before her death.
Tonight we ate at the hotel's "Esphahan" Indian restaurant and it was SOOO good!! Even better that we had live Indian music being played while we dined.
TIP: We recommend ordering as we did, try one Contemporary tasting menu and one traditional tasting menu and share the lot while being serenaded. 🙂  You will try a multitude of culinary delights, just be sure to go hungry!
Jaipur 
Tauck went over and above today!!!
Reaching Jaipur this afternoon by motor coach we had a wonderful lunch in our world class hotel called the "Raj Vilas" and some free time to relax and enjoy the park surrounding the hotel with peacocks and various birds everywhere- like in the pictures you saw above, it was by far one of the nicest hotels we have ever seen!!
This afternoon we visited the Jantar Matar- an ancient Astronomical Observatory, we had a guided walk through the Maharaja of Jaipur's City Palace and took a rickshaw ride through Jaipur to experience the colourful parts of the pink city.
Tonight we were completely surprised with an elaborate evening at the Rambagh Palace Hotel where we were greeted and escorted parade style by a band, four white horses, four camels and two Elephants to a private open air terrace. We were stunned and couldn't believe our eyes that this was happening. Then, we got to take our time to adore and take pictures with these Beautiful animals… proof in the pictures below.
If that wasn't enough, we then had dinner under the stars at the Palace with live traditional Indian music and dance to entertain us while we wined and dined!  It was a night to remember for the rest of our lives. Wow!!! 
Have a look at a few pictures from the entire day… this is what vacation should look like!
Jaipur Day Two:
At 9 am we headed out with our wonderful guide and got dropped in the center of the "Pink City" named for it's trademark building color. It was so interesting to walk through a flower market and see the snake charmers, yes they are real snakes!!  Ask Shawn, here he is touching the snake…
After that we took open air Jeeps to the top of a small mountain to walk about the Amber Fort and then went to another palace to have a delicious lunch which was presented as it would have been for royalty back in the day. Once lunch was finished we went to the garden and watched an entertaining puppet show.  Then it was time for shopping. Jaipur is famous for its gemstones and the prices are incredibly cheaper than in America.
Tonight we dined at our beautiful hotel and ordered what we liked from the menu. We had a wonderful slow roasted lamb dish while dining under the stars with live entertainment, a fireplace crackling away and a lady hand-making roti and gladly showing Nancy how it was done- not as easy as it appears!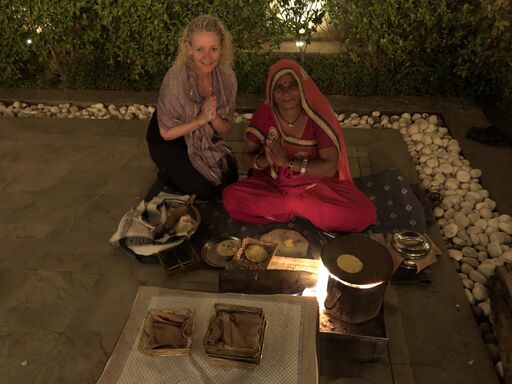 Jaipur Day 3
So, this morning we were supposed to do this…
…we were supposed to take a balloon flight but last minute it got cancelled due to weather.  🙁
Many companies will charge extra for this Balloon ride option but Tauck includes it because it is "supposed" to be an experience not to be missed, so they always include magic moments like that when they can.
Be a dear and make sure to try it and let us know how it was, would you? Lol.
This afternoon we watched (and took part in) a Saree & Turban demonstration to get a taste of what it is like to dress in some traditional Indian clothes.  The materials are so very colorful and had us all grinning from ear to ear like in this picture! 🙂 
Udaipur
This afternoon we took a quick 45 minute flight from Jaipur to our next city that we called home for 3 nights called Udaipur.  Udaipur is known as the city of lakes and is a world producer of zinc. According to many famous travel magazines, Udaipur is known as one of the best cities to live in Asia… that's a pretty bold statement but it didn't take us long to see why!
Here in Udaipur we were delighted to check into one of the highest rated hotels in the world called "Oberoi Udaivilas", you saw the pictures above, amazing right?
Again we were greeted by a million staff (ok, not really, but it felt like it) escorted to our elegant suite that also had a patio that opened into a garden- very nice!!  On top of that, the grounds are just incredible and the resort sits on a lake with stunning views. 
We left here this morning for a tour of Udaipur.  But first a stop at the City Palace for a walking tour and views of a few museums inside. Later we visited an 18th century active Jagdish Temple… we had to take off our shoes but Tauck provided us with booties, nice touch! 🙂 
We then had lunch at the sunset terrace restaurant overlooking the Pichola Lake and then took a jetted boat ride on the lake. That evening we were hosted by a local family to their Royal Repast restaurant which is situated inside their 85 year old noble ancestral home. What a day!!
Day Two Udaipur
This morning we began our journey with a Tuk Tuk drive to see the sights of the city of Udiapur, so much better when you're not driving to get a good look at everything. Then we got off and walked all about the city while our guide explained what we were looking at in the colorful markets. He knew the area well, since he lived a block away and spoke really good english as all the guides did so it was interesting to listen to his stories.
Afterwards, we were given time to do some shopping and the Tuk Tuk's waited until we were done and brought us back to the hotel… another nice touch with Tauck as other travel companies regularly drop and leave you to make your own way back.
Kochi
Today we flew most of the day to reach the city of Kochi known for its palm trees and the majority of the land is for growing spices, cashews, making rubber and it is the largest producer of fish in India.
Many expats live here. Christianity is the largest religion in this region.  We can see that the culture changed again– the dress, cuisine and the landscape and so much more.  At the hotel we watched a local traditional dance which takes 3 hours to dress in their costumes.
Here we stayed in the lovely Taj Malabar Hotel which sits on the Kumarakom Lake. From the dock, we took a sunset boat cruise and had drinks and local snacks while we snapped pictures of the scenery and sun setting in the distance…
Tonight, back at the resort you could choose from 3 different restaurants in the hotel, we just happened to choose the seafood restaurant called Rice Boat that sits on the water's edge and we had wonderful views while dining on a seafood plater, almost like a sampler and it was delicious.  TIP: Be sure to try the soft shell crab, its to die for!! 
Kochi

 

Day Two
After breakfast, Dr. Anthony lectured for us on Kerala's diverse history and people.  After that we visited Kochi and did some sightseeing of the St. Francis Church, the Dutch Palace and we had some free time to shop for spices and things in Jew Town.
TIP: In Jew Town, if you are looking to buy some gifts and spices, this is a great place to do it. Just walk a little past the main stores and you'll find a spice shop that will sell you cinnamon for $1 a bag instead of $5 where all the touristy shops are and you can get nice shawls for $20 instead of $60.
This evening we visited a Chef's house for a Kerala cooking demonstration, introduction to the local spices and their therapeutic properties followed by a delicious dinner. What a wonderful experience, see our pictures below…
Kumarakom, Kerala
Saying goodbye to Kochi this morning we headed out for a scenic country road bus ride to catch a glimpse of how the locals live in the forested and more remote areas and then we boarded a Kerala house boat called "kettuvalams" for a wonderfully scenic cruise down a river and again to view the lifestyles of the river people in this region.
Onboard we had a nice lunch, took lots of pictures & reminisced about the past thirteen days in India with our new found friends…
…and the next thing you know we arrived to our new home for the next 2 nights called "Kumarakom Lake Resort". We were welcomed with cold towels, a blessing, flowers around our necks and a refreshing drink. (as we have been at most of the resorts we have visited on this trip!) What a way to make you feel welcome!!
Staying at the Kumarakom Lake Resort was truly a Vacation in itself. It's a serene resort likened to a sanctuary where we were given time to enjoy some relaxation. Tauck puts you up in the Suites with a swim out pool that you'll want to take advantage of… as well as the spa treatments that are reasonably priced… better than home!
This afternoon we took a swim right from our balcony pool and then readied ourselves for welcome drinks, live entertainment and a buffet style seafood dinner.  Another glorious day!!!
Villages of Kerala
This morning we took a short tuk tuk ride through a village and got on a boat to enjoy the river view and snap pictures. Then a local family invited us to their property where they spent a good amount of time showing us how they live. It was interactive and interesting.
We got to smell, taste and watch some really interesting things. You learn quickly that all plants have a purpose whether it be medicinal or for home and shelter use. 
Shawn got to try his hand at climbing a coconut tree using a constructed device and they used us as models to demonstrate how they dress in traditional clothes which is unique to this region.
We then walked in a local village and again learned the ways of the locals, but we won't give it all away! 🙂 
Have a look at our pics:
Mumbai
Mumbai is a melting pot of cultures & is the financial hub and most metropolitan city in India. Real Estate is super expensive here (like Vancouver prices- no kidding) so many people live in the slum sections of Mumbai, even people who we would consider "rich" live there!  "Bollywood" thrives here and crime rates are low. In the slums, there are more than 15,000 factories. At our Oberoi hotel in Mumbai, the nearby streets come alive at night with shops and food.
This morning in Mumbai we set out by bus and walked the most interesting areas of the city and we snapped a bunch of pictures. You'll notice in them that there is much British influence…
This evening we said goodbye to our new found travelling companions in India at a farewell cocktail party (starting in 2019 a farewell "dinner" will be included), we certainly had fun and it's nice to be with people whom you have so much in common with, those who love to travel the world and with those who like to travel a certain way without all the hassles.
Check out our pictures of our wonderful group. Us ladies had a wonderful time giving our guide, Abi, a little love! 🙂 
Most of our group flew home tonight but we stayed an extra day due to flight schedules. So before heading home late the next evening we took advantage of the time here (something you will find included in 2019 itineraries because they are adding an extra day in Mumbai and one less day in Delhi which we think will be a better experience as there is more to see in Mumbai then Delhi)…
…we took a tour of "Dharavi" the largest slum area in Mumbai. It has approximately one million people in a two square kilometre or 0.81 square miles—needless to say Dharavi is one of the densest areas in the world…
…we were shocked at how our perception of what it would be like and what it "actually" was like were completely different. Yes, there was much dirt and garbage but when you look beyond that, you see working class families who are not poor living here.  You see hospitals, electricity, a healthy city water supply, markets, merchants and thousands of factories producing leather, textiles and pottery products, etc. with a total annual turnover being estimated at over $1 billion USD.  We were asked to respect the locals privacy so we took very select pictures, here they are:
Overall impression of Indian people:
Honestly, we have to tell you that everywhere we turned, the Indian people saw us coming down a lane or driving by in our bus and from the north to the south, for 3 weeks, we were inundated with smiles of genuine happiness.
It was refreshing to be in a society where people were genuinely happy! 
We often reflected and said "Maybe our luxuries and comforts at home are inhibiting our happiness, not making life easier or more enjoyable" because it was clear these people didn't have much at all but there is a distinct difference in our temperaments and joyfulness levels.
Another thing.  Indian people are conscious to take care of their people, the animals, elderly, etc. so beggars are few. If they do pretend like they are starving, and you will see that, just ignore it and don't feel bad, it simply is not true.  We tell you this so you know how kind and good the majority of the people are in India.
This question has come up before…
The cost of Tauck trips look expensive upfront, are we getting our moneys worth or could we do better on our own?? 
Excellent question, and we are happy to tell you that the value is so good, that if you did this exact trip on your own you would no doubt pay WAY more. Not to mention the headaches of trying to find your way around, locating the best dining options etc., etc. would be very difficult and we truly do not recommend doing this trip on your own!
Our Guides were so good at warning us what to expect and very helpful to avoid headaches. For example, a man will ask you for your hand and immediately start massaging you and expecting a tip, being aware of it, we just kept our hands folded and said "no thank you"- that was an easy headache we avoided and that was just one example.
Speaking of, along the way and with you in mind, we gathered some more…
TIPS for India:
Carry toilet paper at all times, just in case, as many toilets do not have it.
Pack hand sanitizer wipes and a stick for lipstick- as the airlines in India are really strict on liquids of any size in the carry on baggage, but thick cream bases are ok.
At the time of writing, you do not need a plug converter, but if you have one, no harm in packing it.
Just so happens that all our shoes were new, so we just wiped them once home but when packing, we recommend "closed toe/oldest sturdy walking shoes" for touring as they will take a beating.
For 2019 itineraries where the Mumbai "slum" tour is included, if we had our time back we would have brought with us some dollar store toys for the kids and given them out in the playground. Make sure to ask if they are bringing you to the playground if not, you can pass them out on your walk once there. Wish we knew ahead of time.
Not a necessity, but we travel with Epsom Salts on EVERY trip for taking baths. Why?  Salt water kills bacteria & soothe achy tired muscles. Take a zip lock of them for the hotel stays if you like. (The Leela Place has them, but the rest do not).
Please consult with your doctor as everyone is different, but we make it a habit to take probiotics 1-2 weeks before exotic trips to give our guts plenty of good bacteria so we can digest foods we are not used to eating.  Such a small simple thing to do to prevent sickness while on a precious vacation, it's worth it! You can purchase them in the health Isle at Walmart or any health food store.
Bring fly repellant for your time in Southern India.
Money: Credit cards were widely accepted… small shops like cash but you can eat/shop, etc. with just cards, so you don't need a lot of cash unless buying lots of souvenirs.
It was a long blog, but thanks for hanging in there, we are done! But we hope you enjoyed it. 🙂
We were sad to say goodbye to our new friends because our experience was so amazing but we look forward to taking other tours with Tauck in the future as they offer so many choices such as river cruises, multi-generational land tours & themed event tours all over the world.
If you would like to inquire about this trip to India with Tauck or any other Tauck land tour, River Cruise with Tauck or any other River or Ocean line or have more questions about India don't hesitate to call or email Shawn anytime… he is more than happy to help you plan your next memorable vacation!
If you would like to learn more, check out Our Portrait of India Land Tour Pictures and Videos where you can learn & see much more about our tour! We added a lot of thorough captions under each picture.
We appreciate you!
Nancy & Shawn
Your Trusted Cruise Experts!