Most people think Tahiti is so far away, which is great for travelers as it's not overcrowded but in reality it is only 3 hours past Hawaii. Shh… don't tell anyone. 😉
After an 8 hour non-stop flight from Los Angeles we finally made it to French Polynesian's island of Tahiti. A Paradise in and of itself we were excited to be here the minute we stepped off the plane and felt the warm ocean air hit our skin.
One word of caution though.  Because there are few flight options available, many times it's a red eye flight you'll be taking (bummer!) which is a shame as your sleep gets broken; then couple that with jet lag and the reality is that you are tired upon arrival, not a great start to your Cruise!
SO, do what we did and extend your stay with Paul Gauguin's hotel program (simply ask Shawn about that) and book an extra night stay or more to simply rest & refresh before your Cruise begins so you can "actually" enjoy your 1st few days onboard.
Where did we stay?
We stayed two extra nights in an Over-water Bungalow at the Intercontinental Tahiti Resort & Spa, you can see what this resort is like by checking out our pictures & comments here. You won't believe it!!! If you are looking to make your trip extra special, even though it's very pricey, staying in an overwater bungalow is without question the way to do it. 🙂
Here's a couple of pictures…

Tahiti
Scientists believe that French Polynesia was one of the last places on earth to be settled by humans which makes this part of the world SO intriguing to visit. Many of us experienced travellers are looking for places to visit that are unspoiled, natural and less populated, so naturally Tahiti and the French Polynesia are a good fit!
It is a compliment that Tahiti and the islands we visited reminds us of Hawaii & the Galapagos at times but for the most part it is certainly a special place unlike any other. With Hawaii though, it is so crowded that renting a car can be stressful but in Fakarava for example we rented bikes and saw ONE car the entire time on the Island. 🙂
What Makes Paul Gauguin Cruises Unique?
Since taking this cruise we knew that other cruise-lines dabble in French Polynesia by having sailings here as they "pass through" to other destinations but Paul Gauguin purely specializes in the South Pacific "year round" which makes them experts at immersing their guests in French Polynesia culture.
They employ friendly Polynesian hosts/entertainers who they call "Les Gauguines and Les Gauguins" who invite us into their world by hosting free workshops to create local flower hats, jewelry, decorative art classes, etc.- and it's all yours to keep free of charge!! Usually these types of classes have a cost to participate on big ships but not here. And these happy guys & gals are constantly sharing their music, dance & overall Culture with the guests.
Another great benefit about Paul Gauguin is that the ship was built specifically to sail French Polynesia's lagoons which means the 332 maximum guests onboard see parts of French Polynesia that most other cruisers don't get to see or experience.
Who are Paul Gauguin's Cruises for?
It's as much for people who like to be water active as it is for people who like to do nothing.  Some guests onboard may not like regular cruises but they like the fact that the Paul Gauguin has many port stops with overnight stays in Bora Bora and Moorea to go enjoy a multitude of water sports & land activities. ***This cruise is for anyone who can climb a flight of stairs comfortably or with assistance as getting on and off tenders is required at every stop.***
Value:
You kind of expect things to be pricey in a part of the world as remote as this, but on land we were eye-poppingly sticker shocked!!
Examples of prices:
5 minute airport to Intercontinental Hotel drive $50 USD
One Breakfast juice $12.50 USD
One Mojito at dinner: $21 USD
Ouch!
We couldn't wait to get onboard the Paul Gauguin ship to have everything included!
When you consider the costs associated with booking your own land vacation in French Polynesia Vs booking with Paul Gauguin, it's truly a no brainer that Paul Gaugin offers the best value!!
Lets look at the airfare alone.
Your own economy air will cost approximately $2,000 per person but with Paul Gauguin the included airfare is a great savings of several hundred dollars per person. They also include a day room if you fly in the day of so you can rest until embarkation at 3pm & they always include late lunch onboard/an Island Tour/a dayroom at the end of your Cruise before the midnight flight home… and they also include ALL needed transfers!
Any extra hotel nights you pre-book through Paul Gauguin includes breakfast too so you don't have to pay out of pocket Tahiti prices either… and trust us, that's a good savings!
The biggest plus we see in booking a Paul Gauguin Cruise is that you get to unpack once and see many of the islands and not just sit in one place the entire time as many people do for example in Bora Bora; AND as we mentioned already, it's grossly expensive in Tahiti & French Polynesia on your own but once onboard the ship EVERYTHING is included so you don't have to worry about the price when having a second (or 3rd or 4th) glass of wine, a dessert, a steak, etc.
Have a look at this chart to see the value…
We always say, the key to having a memorable stress free cruise is getting the money part out of the way BEFORE your vacation begins so you can totally and completely relax and indulge. 🙂
What's included?
A wide variety of premium drinks (including wine, spirits, beer, soft drinks & bottled water), ALL tips for onboard staff, ALL the restaurant dining experiences, watersports out the back Marina, snorkel gear during your Cruise and round trip economy airfare from Los Angeles.
Plus, when you purchase airfare with Paul Gauguin they include ALL transfers and also include day rooms as necessary. (depending on your air schedule).
There are shops onboard so you can purchase souvenirs and you need to pay for excursions for the ports of call and internet onboard & spa treatments if you choose to indulge in them but nothing more then that!
Onboard:
When we embarked the ship it was a typical high end luxury welcome with super friendly staff. We were given a glass of champagne coming onboard and staff escorted us to our stateroom. We would give the welcome onboard an impressive 5 out of 5 for sure.
We have to mention how impressed we were with the staff onboard the Paul Gauguin too- out of our 50 cruises to date, they are one of the best, top 2 actually! This is due to being a 1 ship line many of them have worked over a decade onboard & truly feel like a Family! They were friendly, very attentive and call you by name whenever they see you. Here we are with a few of our favourites…
Onboard there is a gym, spa, shuffleboard, a walking/jogging track, dance lessons, lectures, workshops, cooking demonstrations, internet cafe, little library & shopping, diving instructors, a marina (not a typo- but we'll tell you more about that later) performances by the onboard staff, casino, movies, piano entertainment to enjoy afternoon and evening cocktails, dancing and so much more.
Want to see pictures of the ship and get more great tips?  Then click here to see our photos and videos.
The ship offers two private Islet beach days that all the guests onboard rave about, us included. Keep reading to the end to hear more about those! Or, if you want to skip down to it, it's under "Ports of Call".
Without question, the South Pacific Ocean is teeming with fish and so as you would expect- the freshness of the fish served onboard is the very best. If you like seafood, you will (like us) think you've died and gone to heaven. Even if you don't like fish, the other options are just as delicious.
A cold fridge is located in your room stocked with bottled water, juice, beer and soft drinks. Ask to have it filled with your preferences. Click here to see our videos of the staterooms available.
Food & Restaurants:
Our welcome aboard as we mentioned was top notch but what we didn't mention was the great Tea Time we had on embarkation day which is also served daily.
It included lamb chops, fresh pasta, carving station, desserts and so much more.
Each meal we had after that was sumptuous too.
On top of tea time daily, there are 3 restaurants onboard plus 24 hour room service where you can also order from the main dining room and eat on your balcony or in-room. Yup, you can order room service from TWO menus!! See Nancy happily having dinner & a movie after a long day in the water and sun, she is very relaxed…

Le Grill: This restaurant is on the top deck next to the pool and offers breakfast, lunch and a fantastic seafood dining experience including fresh caught tuna and delicious shrimp & scallops.  Reservations required (especially for nights when the ship sits in port). **But you have to book early!**
La Veranda: This restaurant is an indoor/outdoor dining venue that is open for breakfast, lunch and dinner. Dinner time it turns into a French restaurant with some incredible choices.  Don't forget to try the Escargot and Creme Brûlée- yummy! Reservations for dinner required.
Here is Shawn getting ready to enjoy lunch with the great views surrounding him…
L'toile: Is the main dining room where you can enjoy dinner daily with whom you want, when you want. We had almond crusted red snapper that was melt in your mouth delicious…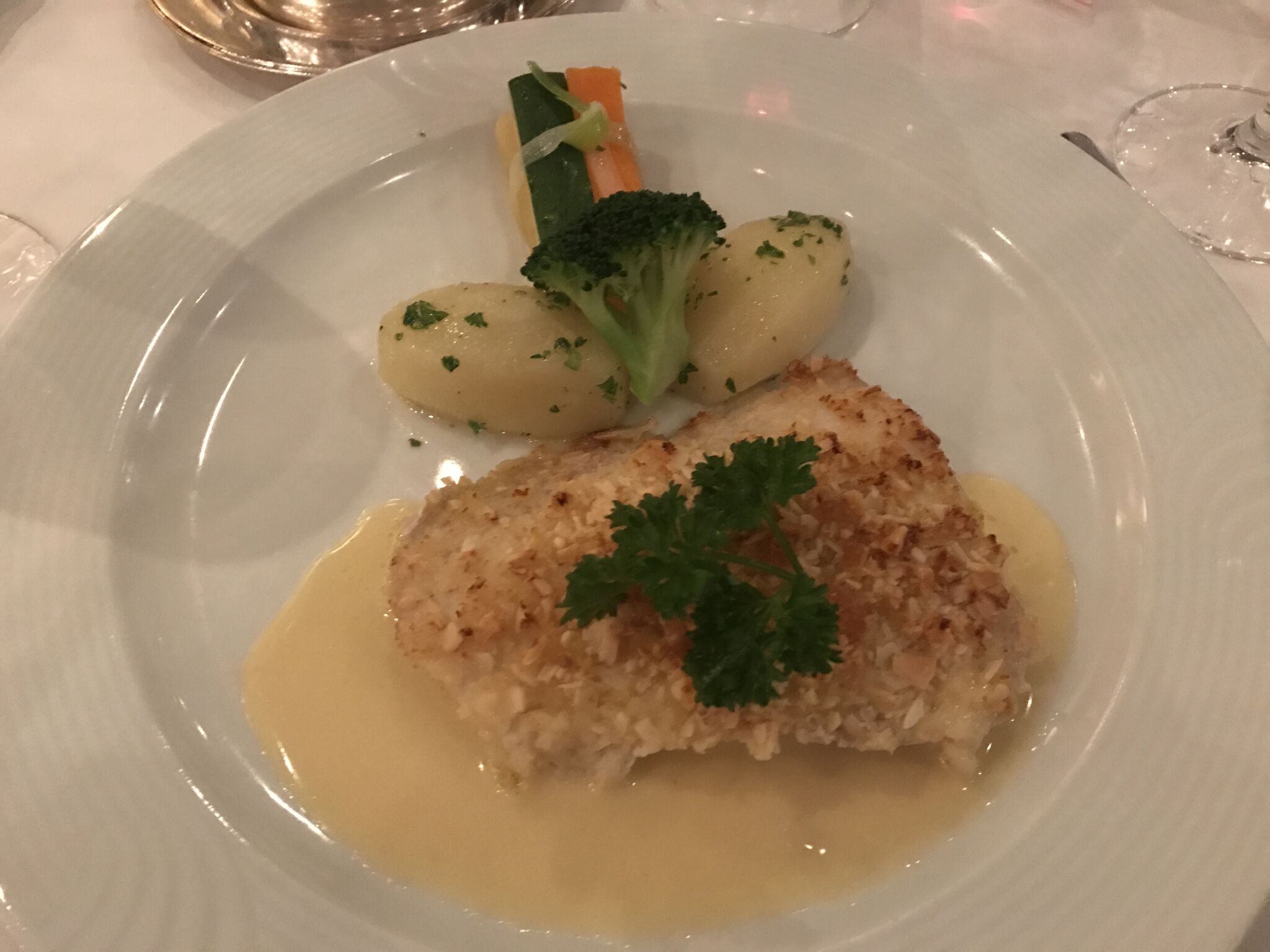 …among other fantastic dishes, oh and the ever flowing wine was good too!! 🙂 Check out the presentation on this delicious appetizer…
Our recommendation: share plates with each other so you can try different things!
Ports of Call:
Huahine
For this port stop we decided to take a bus tour of the Island as most other excursions were based around water activities so we thought why not mix it up a little and see the "Cultural Highlights of Huahine". We went to see blue eyed eels, a vanilla farm, ruins, etc. It was a nice tour and we would recommend it.
Taha'a
Today is a treat and a not to miss!
We stopped at Paul Gauguin's private Island "Motu Mahana" where we were welcomed with live music & cocktails, a BBQ, turquoise beaches that were like bath water when you walked into it, water sports like kayaking and snorkelling, coconut & food demonstrations, and even a floating bar in the lagoon.
Talk about spoiled!
Check out Shawn ordering a drink as he was wading in the water after a swim on this paradise of a motu…
Think you could relax here?
Rangiroa
Is very popular with tourists for it's natural aquarium and it's series of islands around a Lagoon.
For snorkelling, the "Blue Lagoon" is a do NOT miss!! The marine life here is incredible. We signed up for it and saw Tiger Sharks, Sting Rays, Large eels, and schools of fish.
Check out these pictures we took with our underwater camera: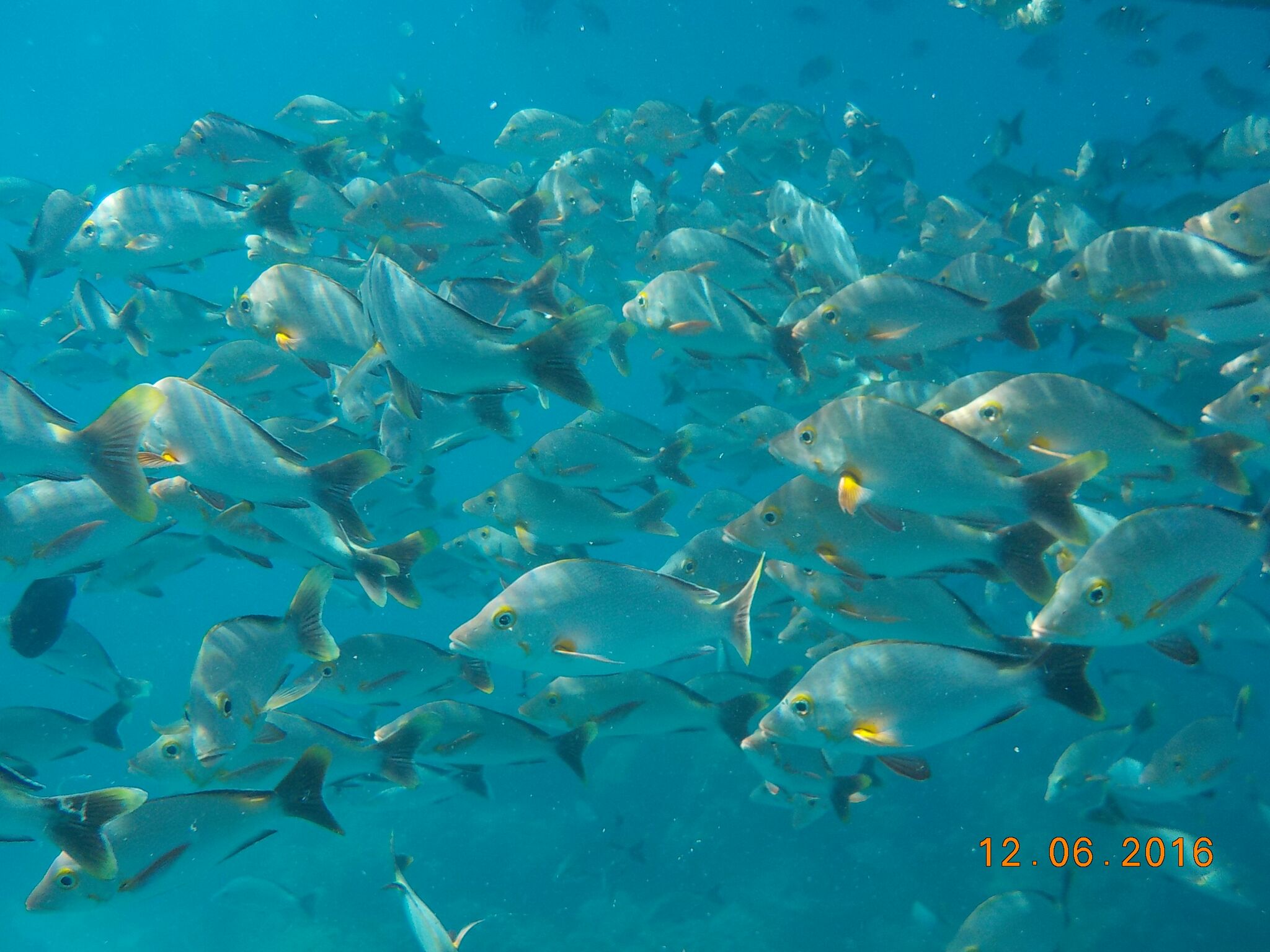 Fakarava
This Island is filled with unexplored motu's (islets) and is protected by UNESCO charts because of its rare crustaceans such as quills and sea cicadas.
We rented bikes on this tiny island for $8 for 1 hour and saw one vehicle the entire time, it was great! We took a dip in the 29 degree Celsius ocean water to cool down and then once back on the ship we went to the onboard Marina and kayaked off the back of the ship.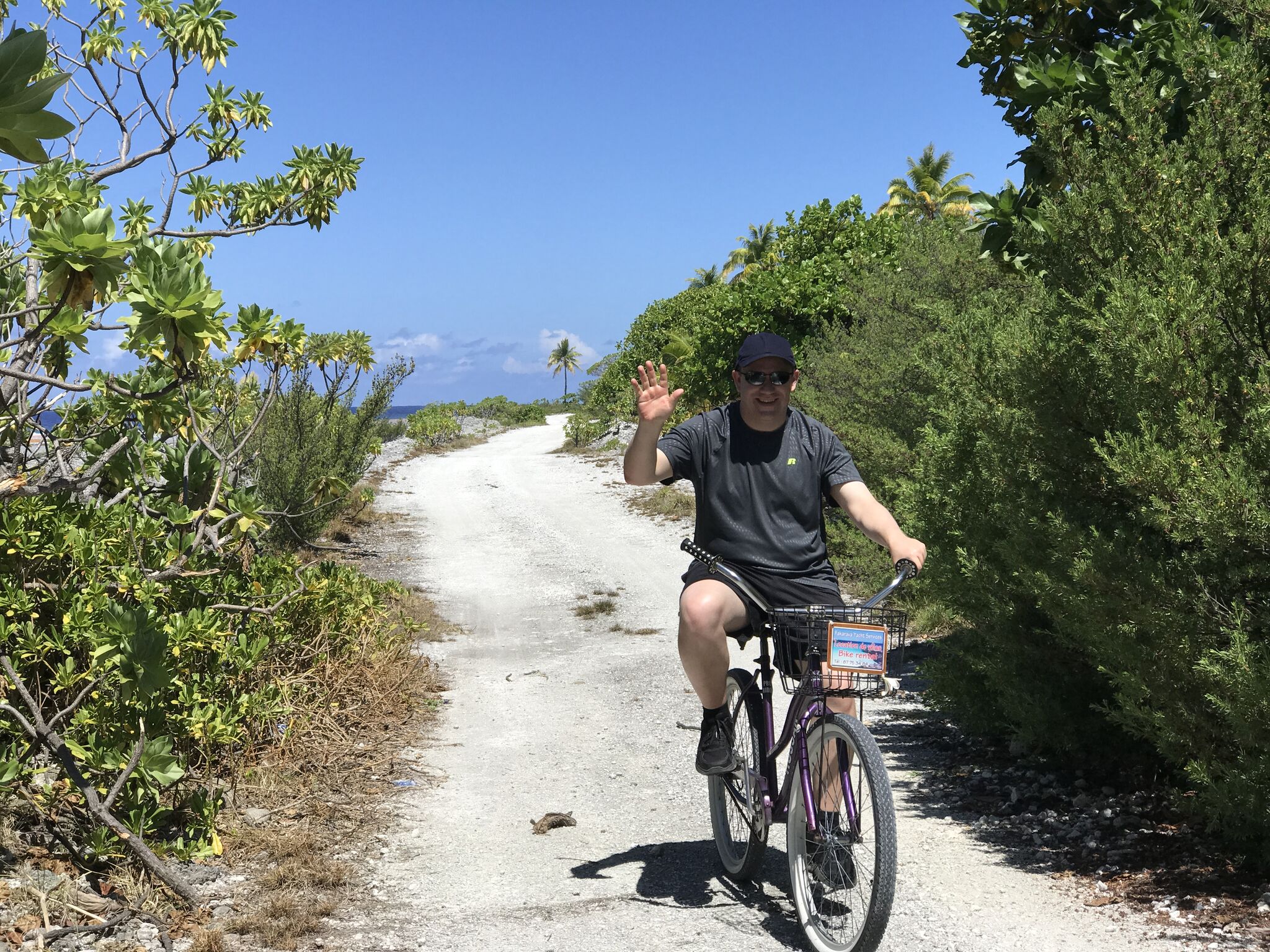 Create your day however you want! That's just what we did… and we loved it!
Bora Bora
Is a picture perfect volcanic island in the Society Islands archipelago of French Polynesia and is surrounded by a lagoon and a barrier reef.
Bora Bora is a tremendously pricey destination. Everything ranges from "expensive" to "indescribably expensive" which is why we were so happy to be enjoying this Paradise from the ship where everything was included.
We were so lucky. The ship sat for 2 days in the lagoon where we had the most incredible alfresco dinners overlooking Bora Bora and surrounding waters. For after dinner drinks (free of charge-and not $25 USD each like at the resorts here) we got to sip mojitos & other yummy cocktails under the warm star light sky.
In Bora Bora there are so many activities to do from hiking to diving to snorkelling to fishing, you name it!!  We did the underwater walk…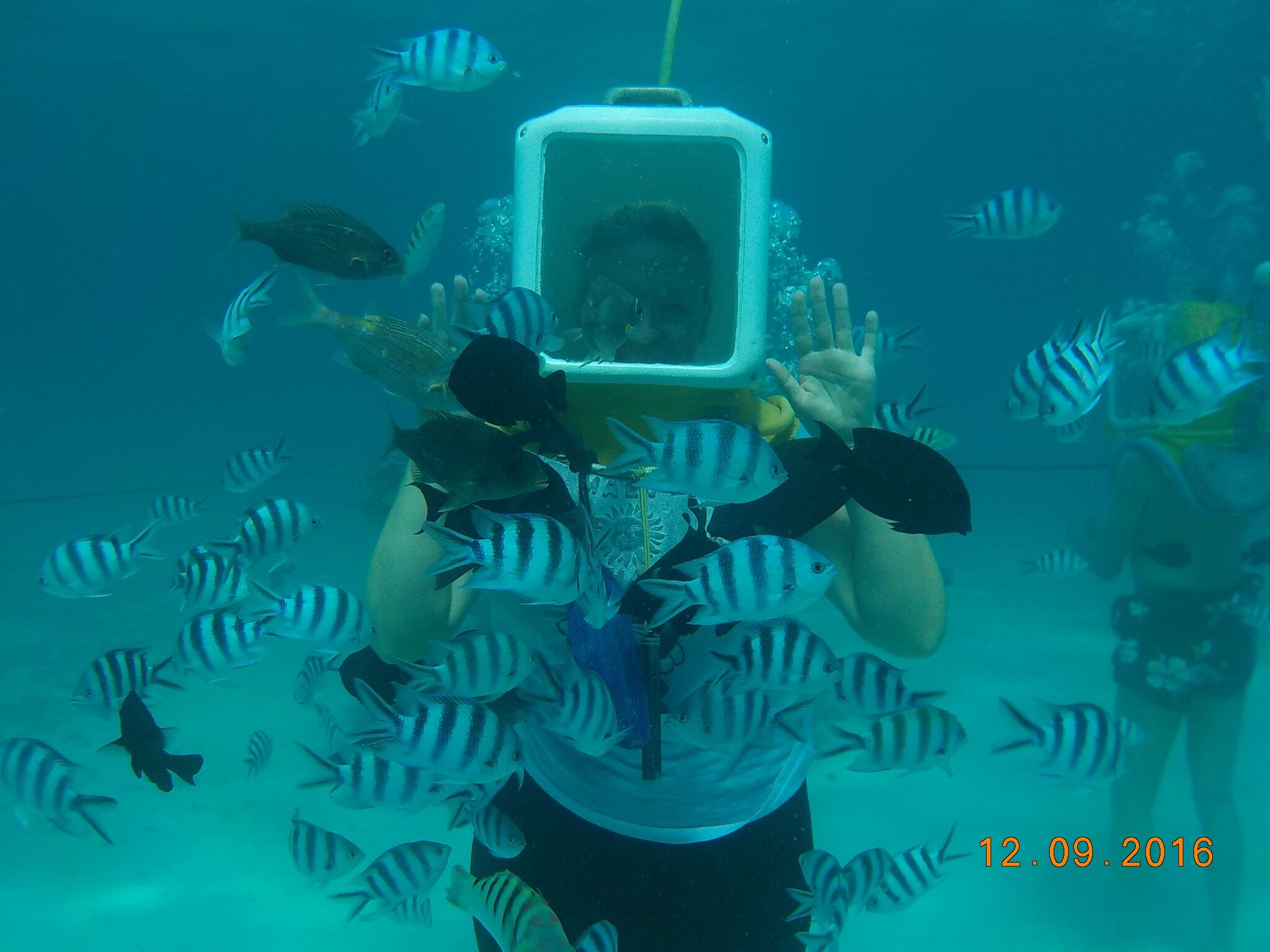 …and rented a car to check out the Island. The drive around the Island with many stops took us 1.5 hours- but we would NOT recommend it as there is not much to see but there are some shops at the pier if you would like to take home some souvenirs.
Besides shopping in Bora Bora, we recommend going to Paul Gauguin's private beach… it's picture perfect and you can snorkel, swim and wade in the water- incredible!!  You can paddle board, kayak and have drinks too.  Note: there are no lounge chairs or bathrooms on this beach like there is on their private island. But don't miss it! Have a look at the picture of this beach area… much better then going to one of Bora Bora's overcrowded public beaches!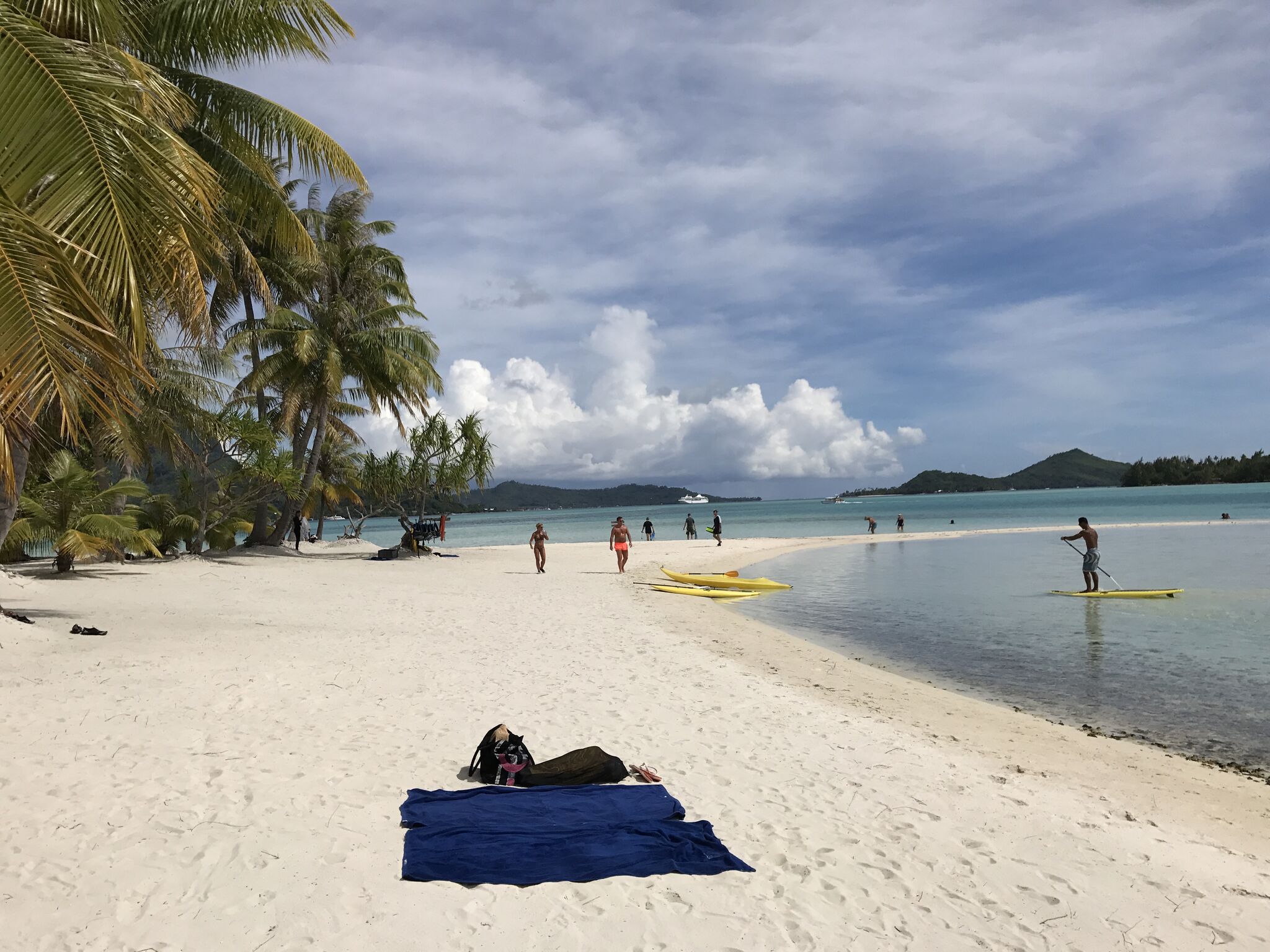 Moorea
One of our favourite stops this trip! Moorea is a mountainous beautiful island with so many opportunities for land and water activities.
We rented a car and went to the top of Belvedere mountain to see the views from up top. Check out this pic…
9 Important & Useful Tips! (**be sure to read this**):
Tip #1: Bring water shoes to protect your feet from the coral, sea urchin, etc as you will be doing lots of water activities and will need them!
Tip #2: 3pm is the embarkation time. They will NOT let you on early for showing up, so instead of standing in line like many will in the heat, be smart & get a late check-out at your hotel and have the driver bring you to the port no earlier then 3pm. The ship's top capacity is 332 guests so don't worry about a long line-up. **FYI, if you use Paul Gauguin's included air package you can ignore this tip as they'll bring you to the ship at the appropriate time**
Tip #3: To stay in Tahiti Before or After your Cruise?
We would recommend staying in Tahiti BEFORE your cruise and not after, for a couple reasons:
We talked about this already but you can rest up and rid of the jet-lag so not to ruin the first couple nights on the cruise.
So that once you are onboard you will appreciate the all-inclusiveness it offers especially after the price tags of everything you buy on the islands are shockingly steep.
Tip # 4: The spa's steam room area is FREE of charge!! You have to reserve it (and we are sure most people didn't know about this) but there is a sauna/relaxation room in the spa that you can rent for a maximum of 4 people and it is yours for an hour, FREE of charge.  How nice is that, we did it twice & it was so relaxing! Typically you pay to use this facility on other ships.
Tip # 5: Paul Gauguin gives you a set of snorkelling gear for the entire cruise. ***Best to go pick it up straight after the drill on Day 1 and NOT the next morning when the lines will be long.
Tip # 6: Have breakfast in your stateroom on the balcony as you sail into Bora Bora and while the ship is sitting in Bora Bora have dinner reservations for "Le Grill" on the top deck to enjoy the views…
Tip # 7:  This is a BIGGIE. Do NOT do what we did which was try to get into the "Le Grill" restaurant last minute especially while the ship sits in Bora Bora and Moorea only to be turned away! We were disappointed. Make reservations once onboard to sit alfresco and enjoy the views while dining in these beautiful locations.
Tip # 8: IMPORTANT: This cruise is not for people with trouble using a small flight of stairs as ALL the port stops require you to take a "tender" boat into port but for those people with some limited mobility, you can still have a very enjoyable and relaxing cruise. Overall, you can be as active or as relaxed as you wish on this itinerary.
Tip # 9: Want to buy Black Pearls?  If you are not worried about quality and want a few gifts, at any of the piers they have some lovely collections. If you would like better quality but at better prices wait till Moorea. Take the free shuttle offered by Pai Moana Pearls (just ask for them at the Pier) and visit Peter and his dad at Pai Moana Pearls who are pearl producers and they speak excellent English. Here is their website: paimoanapearls.net. We get nothing for recommending them but they were recommended by some locals to us and Nancy had her jewelry custom made at the price we wanted to spend. They were super accommodating and we couldn't be happier with the end product. Have a look…
Well, that's it from us, hopefully that was informative…
Want to learn more?  Check out Our Tahiti Pictures and Video's Gallery. Don't forget to read the captions under each picture & video that gives you more great tips and advice!!
More questions? Want to book a Tahiti & French Polynesia Cruise for yourself? We did a good look about of all the staterooms and found out which staterooms are preferable and which to stay away from. Simply give Shawn a call or email to secure the best stateroom for you! 🙂
We appreciate you! 
Nancy & Shawn
Your Trusted Cruise Experts!