A few months ago I enjoyed a weeklong sailing in Alaska on my second ever sailing on Silversea Cruiseline… and like my first trip with them a 1/2 dozen or so years ago, it was a pretty fabulous Cruise!!
Between Silversea's big rooms, amazing food, great service (including a Butler for EVERY room), their "All-Inclusive" onboard product (drinks, tips, wifi, etc.) and their included Shore Excursions off of the ship… Cruising doesn't get much easier or much better than this!! 😉
As I've talked about in previous articles of mine on this site, there are 3 main types of Cruises out there:
1. Mainstream: These are big ship/mass-market lines (Carnival, Royal Caribbean, Norwegian, Holland America, Princess, Celebrity) which is the way most people get introduced to Cruising… overall, a cheap way/the most economical way to enjoy Cruising due to sailing onboard with 1,000s & 1,000s of others
2. Upper Premium: (Oceania, Viking Ocean Cruises… Azamara also falls into this category but these days I'm VERY hesitant to recommend Azamara so make sure we talk first if you're considering them!) These are Great Value Cruiselines as they're an affordable way to have a small ship experience!
3. Luxury: Small ship/all-inclusive lines. (Regent, Seabourn, Silversea) These are Fantastic experiences if in your budget as they include pretty much everything in your upfront price and are the pinnacle of Cruising when it comes to food & service!
As you can see, Silversea falls into the Luxury/All-Inclusive/Small Ship line category which is pretty much as good as the Cruise industry offers when it comes to quality… if you want any better than this "at sea" then rent one of those $100,000 per week private yachts with a full staff to cater to your personal needs! 😉
As mentioned above, Silversea is a Small-Ship line… when you sail with them there'll be anywhere from 100-720 guests onboard so you'll always know you'll have that exclusive/non-crowded/no line-up experience no matter what Silversea Ship you sail on!
As an example, the "Silver Muse" ship I was just on fits 596 guests if fully booked at double occupancy… BUT, if you put a ship that size into the hands of a "Mainstream" line they'd have around 1,200 people onboard so one of the first things you notice when on a small Luxury ship like this is how much bigger the rooms are and how much more personal space there is in all the public areas… which is why you pretty much never have to worry about line-ups on these small ships!
In the last paragraph, I talked about how the rooms are bigger on a line like Silversea.
For example, this video shows you the Veranda Suite that I stayed in onboard "Silver Muse" which was 360 square feet and that's the smallest Veranda room onboard… as you can see in that video, not too shabby!!
In comparison, if we look at "Celebrity" Cruiseline (in my opinion they're the "top-rated" line of the big ships) their starting Veranda size in their "Infinite Veranda" rooms (which is what they're putting on all their new ships these days/they don't even feature a real outside balcony) is only 200 square feet so Silversea's room is 80% bigger!
I don't know about you but when I go on my hard-earned Vacations I'm not looking to downgrade my life when it comes to where I'm sleeping/showering/changing/relaxing, etc. compared to at home so these bigger rooms are VERY appreciated on the lines like Silversea!
And not only are the rooms bigger on Silversea but also they DON'T offer Inside rooms like the "big ships" do… which is Great as who wants to go on a Beautiful Cruise "At Sea" and then not be able to see outside of their room! 🙁
And on Silversea's newest ship which was just launched last month, "Silver Nova" https://www.silversea.com/ships/silver-nova.html, they've also done away with their "Window" rooms with no outside Balcony so if they keep that trend up not too far down the road the worst room on Silversea will feature its own private Balcony which I definitely think is a must when you take your hard-earned Cruises!
So, the bottom line is, no matter what Silversea ship you sail on you'll know you're going to have a nice room to stay in!
And for those of you with some hefty budgets who love the bigger/over-the-top Suite options, no worries as Silversea has lots of bigger Suite options on all their ships including those 1,000+ square foot Suites on some of their ships!
One last note about these bigger room sizes… as Silversea goes to over 900 different ports around the World (As you'll see here https://www.silversea.com/destinations.html there's pretty much nowhere you can't visit on one of Silversea's sailings!) they offer a lot of unique/longer sailings… many of my clients sail on Silversea for 2-4 weeks & longer (They offer 3-4+ month World Cruises too!) so you'll definitely appreciate all this extra space when on those long trips!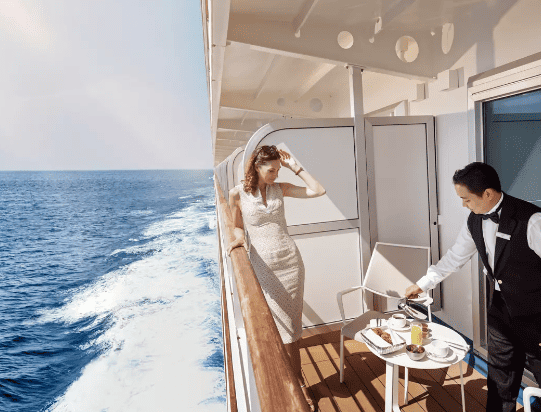 Another thing I REALLY love when I go on these super small/Luxury/All-inclusive lines like Silversea is that the service onboard usually far exceeds the big ships!
As I talk about under this picture, after sailing on 80 Cruises I can assure you the service is great on big ships too/it far exceeds what you're used to on land vacations but when you get onto these small ships the Service gets enhanced due to fewer guests onboard!!
The staff simply get to know you & your preferences more & they pay attention to all the littlest details!
And one thing Silversea does which is really unique is that ALL rooms get Butler service unlike on most all other ships where only the "Top Suites" do. 
And it's not as pretentious as it sounds/it's not "stuffy" at all… Silversea's Butlers are simply there to make sure everything goes as perfectly as possible and that all your preferences are met for this memorable sailing that you no doubt worked hard to be able to experience.
So, if the "Bvlgari" toiletries for example aren't your cup of tea/maybe your skin is too sensitive for all the perfumey smells/ingredients then they'll replace all that with toiletries for "sensitive skin" as they did for me in this picture.
Or maybe you want a Bacon Cheeseburger & Fries & Cheesecake at 9am in the morning in your Suite before you go touring all day (Yes, I did that one morning before a hike as you'll see here! ;-)) then your Butler will make sure it's there on time (And will be the one to convince the cooks that early in the day it's not the wrong order! ;-)) and will do a "white cloth" set up in your room to enjoy… or if you want to eat from the "main" dining room's menu in the evening because you want a "night in", no problem.
.
Whatever you need on your "Silversea" Cruise you'll for sure "want for nothing" between all the highly attentive staff onboard & your Butler!! 🙂
.
Something else that usually stands out on these smaller ships is the food… again, at least in my opinion, even on the big "mass market" ships the food is awesome compared to other vacation options like all-inclusives, etc. but…
…on a line like Silversea where you're paying big daily per diems the Food is "next level" with amazing quality/fresh ingredients, beautiful presentation, more luxury items like Lobster, Crab, beautiful cuts of meat, etc. 
I've personally been on a lot of Cruises since Covid (14 in the past 1.5+ years) which have included big ships & small ones and I've never seen such a lack of "the good stuff" on big ships as I have the past 1.5 years.
Lobster is almost unheard of on those ships these days, and if it is available, you for sure have to pay for it… King Crab is gone unless they have it for a huge "upcharge" at a specialty restaurant that you're already paying $40-$50 per person or more for. The cuts of meat are way more basic these days, etc.
BUT, not so on the small luxury ships… they still include all the "good stuff" in your prices/they haven't cut all those corners.
So, when I say onboard "Silver Muse" there was Lobster at every evening meal if you wanted it for example, no kidding, there was!!
And everything was fresh, tasty, as good as always so no worries there! 🙂
And I have to say, for such a small ship the "Silver Muse" really impressed me with all of its choices in the evenings… there were literally 8 different restaurants you could eat at in the evenings… it's not uncommon for ships this size to only have 3-4 choices so the variety was impressive!!
Anyways, I could talk all day about how good the food onboard was but wouldn't you rather "see" it instead! 😉
If so, visit here and check out the dozens of pics in my gallery that show you some of the VERY yummy food I enjoyed when onboard!!
A final thing that I REALLY liked about my latest Silversea Cruise is that they include LOTS of Shore Excursions in your price!!  
Now note that I didn't say "All" excursions are included as higher-end tours like helicopter/float plane rides, test driving a Ferrari in Italy, private tours, etc. aren't going to be included.
My rule of thumb is anything that would normally cost $250 per person or less will be included in your price but if you want to take a Helicopter in Alaska and land on a Glacier to go dog sledding for example and that costs $650 per person, that's NOT going to be in your price… that would REALLY drive up Silversea's prices to book your Cruise if so!!
With that said, during my Cruise, I had LOTS & LOTS of included excursions to choose from!! 🙂
If you visit here & the dozens of pictures after it you'll see the tours I did in Alaska during my "Silver Muse" Cruise including the "Alaskan Lodge Adventure & Seafest" in Ketchikan, a Glacier Hike in Juneau, bicycling through a Rainforest in Skagway and a culinary tour in Sitka.
As I talk about in many of my other posts there's nothing worse than when people book themselves a Cruise and then they "cheap out" and don't book good shore excursions as to me they're missing getting to experience a destination by simply walking around the port & checking out a few shops, etc.
FYI, I can say that from LOTS of personal experience from my earlier days of Cruising! 🙁 
That's why I love River Cruises and Ocean Cruises with companies like Silversea, Regent, Tauck, etc. who include Shore Excursions in their prices as, since you've paid for them already, you end up taking one in every port and get WAY more out of your Cruise compared to simply "checking out" the port area as so/so many people do!!
The only negative about Silversea's excursion program is they only include 1 per day so unlike companies like Regent & Tauck, if there's time to do 2 tours in 1 day (or I've even been to places where I've done an excursion in the morning, afternoon & evening!) you need to pay for the additional tours… don't get me wrong, that doesn't happen often but when it does it'll increase your costs a bit if you take advantage of seeing additional sites in 1 day. 
Well, as you can see, at least in my opinion sailing on a Silversea cruise is a pretty awesome experience!!
"That's all great Shawn but any downfalls with Silversea?" you ask… yes, there's a couple for sure so let's get into it! 😉 
When you call & talk to Silversea's VERY BIASED reservations agents (who have to follow scripts/can never give you their real opinion! ;-)) or go on Silversea's site, as per here https://www.silversea.com/why-silversea/all-inclusive-luxury-cruises.html, they're going to tell you how great their "Door to Door" program is and how you should book their Cruises with your airfare included.
BUT, they never tell you the pros/cons of that and, unless you ask, they don't tell you about alternative pricing which can be MUCH cheaper!
As I talk about here though, booking Cruiseline airfare can often be a REALLY bad idea and Silversea is one of the WORST culprits when it comes to that… no kidding, they literally were the main reason that inspired me to write this article! 🙁
I've had issues with Silversea's air department that took almost 2 months to solve, even the simplest request can take them a week, etc.
But the big thing though is their "Door to Door" pricing can sometimes be $1,000s per person more than their "Port to Port" option! Often I've seen it be $3,000-$4,000 per person more to include economy airfare which would cost a client of mine $1,000 per person or less to purchase on their own.
With that said, their "Port to Port" fares have some downfalls too… yes, the pricing can be majorly/majorly lower but often you have to pay in full the day you book/often for a Cruise that's a year+ out and it's 100% non-refundable so you need to be really committed to going to take advantage of these fares!
Silversea's main competitors Regent & Seabourn, at least for now, don't have these unfavorable booking rules to get their best fares so although Silversea has a GREAT/GREAT onboard product they're by far the most complex line to book when it comes to the Luxury lines as figuring out what option to go with isn't always simple!
With that said, I've booked over 60 million dollars worth of Cruises for 1,000s & 1,000s of clients of mine so this is all simple for me to figure out/explain which is why it's Never a good idea to book direct with a Cruiseline. (Which is why over 75% of people book their cruises with people like me and when it comes to these more expensive cruises, 95% of people book with experts like me rather then with Cruiselines direct!)
If you attempt to book direct it's often complex & nearly impossible to know if you're getting the best deal or not as you're getting your info from someone who works for the Cruiseline/has no choice but to tell you & sell you what they're told to!
And, as mentioned here, it's always a better deal to book with someone like me compared to the Cruiseline direct so if after reading my above Silversea review you feel like it's a line you want to give a try & sail on, then simply contact me here and I'll help you plan & book your Silversea Cruise so you'll know you're getting the best deal for you and you'll know someone will be with you from start to finish to make sure it ends up being a GREAT sailing!! 🙂 
I Appreciate You!
Shawn Power
Your Trusted Cruise & Tauck Tour Expert!