A vacation to Africa is the Ultimate Trip of a Lifetime and WAS the # 1 wish on our Travel "Bucket List".
And although the cost of a trip like this needs deep pockets (or a 2 years worth of travel savings like some of the guests onboard did) and the flight travel from North America to South Africa is long, it is so VERY well worth it– as there truly is NO experience like it!!
We should point out that this trip is more "high end" than a typical AMA Waterways River Cruise experience in Europe and the itinerary gives you a really good sampling of South Africa but you will see what we mean when you dig into this blog and see our Pictures & Videos.
We would hate to say anything that would over-promise and under-deliver as that is not our style but we can tell you confidently that this itinerary (we did their "Stars of South Africa" option) is by far one of the best itineraries we have ever experienced, if not THE best!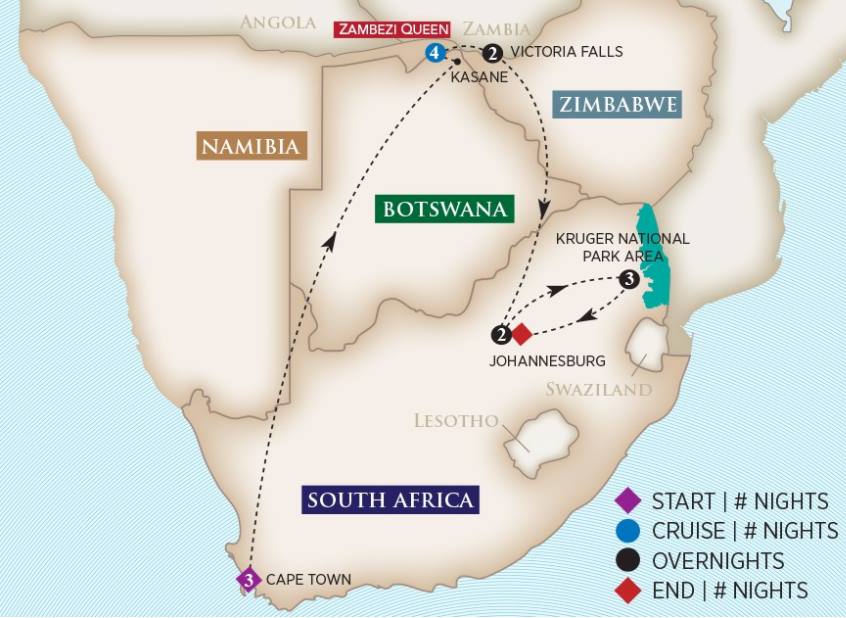 We arrived into the Cape Town International Airport (CPT is the airport code) and a local representative with AMA was waiting in arrivals with a sign that said…
It was comforting to know that from this point on, we could sit back and the staff were there to take care of the rest!
We had a short 20 minute private transfer in a luxury car which had cold water, candies and even refreshing toiletries waiting for us after our flight. (never had that before) Nice touch!
Reservations were made by AMA for the Cape Grace Hotel (which if you Google "top hotels in Cape Town" it will come up #1 or 2) which is an elegant, picturesque hotel at the "Victoria & Alfred" Waterfront in Cape Town.
Our hotel room faced "Table Mountain" where we had the most fantastic views and at every turn there were small touches and little extras done for us by the hotel that made us feel super special- we won't go into detail about it, instead will let you be surprised. 🙂
Below you can see our hotel (the orange/redish one) and Table Mountain behind Shawn who is grinning from ear to ear!
For our first night we had a Welcome Reception in the library where we got to know our fellow 25 guests and our friendly tour guide, Kirsten, who gave us an overview of the itinerary as we sampled some delicious appetizers and African wines.
Tip: South Africa's "Pinotage" wines are REALLY good. Give them a try during your visit. We all enjoyed a few glasses together. 🙂
There are so many pluses to having a "small group" including not having to wait around to board or disembark buses, safari jeeps or boats, no long line ups to contend with, exclusiveness and private events can still be experienced and enjoyed etc, etc.
See our small group below, we had SO much fun together!
Here are some of the Highlights of our "Stars of South Africa" Itinerary with AMA Waterways…
.


CAPE TOWN:
"One of the Most Dramatic Coastlines in the World" ~ Shawn Power
Our very first morning we went to Cape of Good Hope/Table Mountain National Park.
To get to Cape Point, we took a scenic drive through the park lands and along the coastline and saw Ostriches, Seals, Horses, Antelope, Baboons and many species of birds and plants.
Then we took a Funicular ride up the side of a rock formation to enjoy the most unforgettable views (see picture below) overlooking Cape Point and the Atlantic and Indian Ocean… we saw ALL of this and it was only the morning of day one. Wow!!
We then stopped at the "Cape of Good Hope" which is the most South-Western point in all of Africa as stated below…
Penguin Viewing
Next we went to visit with Penguins in their natural habitat on Boulders Beach.
We were told it's the easiest access in the world to see penguins as normally you have to take boats to deserted Islands to see them. See how cute they are?
Tip: We like to eat frequently throughout the day so we brought a trail mix & snacks on tours as lunch can be a bit later in the day during these full day tours so a little snack did the trick until! 🙂
Speaking of lunch, when on land extensions in Europe before/after an AMA River Cruise the only meals included are breakfasts at the hotels but as mentioned, in Africa they're a much more inclusive product… for example on the way back to Cape Town from our scenic drive we had an included lunch at the "Harbour House" restaurant (a Beautiful Oceanside setting) which featured some yummy food & all the wine/beer/soft drinks, etc. that we wanted!
For your 2nd full day in Cape Town you have a choice of a visit to Cape Vineyards or a visit to Robben Island.
We chose UNESCO World Heritage Site "Robben Island" as we have been to so many wineries over the years whereas this is the small island, 30 minutes by ferry, where Nelson Mandela was imprisoned for 18 years and his story touches us.
We really enjoyed the visit and especially the private bus we had for our small group (unlike the other buses that were packed full with people—we had lots of space to stretch out) and our guide was super enthusiastic & passionate about sharing he knowledge with us.
Then our next guide who took us through the jail was a former inmate (see his picture below with Shawn) who gave us personal insight as to how it was living in the jail… it is quite moving emotionally & we would highly recommend it!!
TIP: Those in our group who went to the Vineyard raved about it also. Just pick the excursion that stands out for you… either excursion- you will be happy you did it. BUT, if you fly in to Cape Town a few days early (which we recommend) you can do one on your own (the ferry to Robben Island for example is just a few minutes from the Cape Grace Hotel so easy/peezy!) and then the other with AMA. Smart huh!?! 🙂
After another scrumptious lunch at an African Restaurant at the "Victoria & Alfred" Waterfront we took a Cable Car up Table Mountain and had the most incredible views!!
FYI, those who went to the winery also went to Table Mountain too! See a couple pictures of the views we had…

.




.


"ZAMBEZI QUEEN" RIVER BOAT ON THE CHOBE RIVER
This was a special experience NOT to be missed!
"On the Chobe River at night time, lying in our cozy bed, we could hear the animal & bird sounds and we would listen in amazement wondering which animal/bird it was… one morning we found out… we took a land safari and learned that a Lion had made a kill. Sad for the Buffalo but it goes to prove that it's as authentic as it gets doing a River Cruise on The Chobe!!"
After a couple of short flights, an open-air safari vehicle ride, a short scenic boat ride and a few stamps on our passports, we arrived to the beautiful Zambezi Queen House Boat (we will call her a "House Boat" from now on as we think this best describes her)…
We were welcomed onboard by the staff with African song and laughter and then we enjoyed cocktails on the upper deck while we snapped pictures of the wildlife & scenery as the ship sailed.
Within 30 minutes onboard we had seen a herd of Elephants, Buffalo, Deer, a Hippopotamus, birds and the most peaceful river views.
Here are a couple scenes from the boat…
Click here to See More Pictures of the Zambezi Queen
All the guests commented that if this was any indication of what the rest of our time onboard the Zambezi Queen was going to be like- we were in for one fantastic vacation!! 🙂
The following days onboard in Botswana & Namibia were truly special because we did multiple…
Water Safaris & Bird Watching!
We boarded small safari boats and our guides knew all the best spots to take us to see wildlife just like this picture of us above…
We didn't know what to expect but we were in awe and needed to pinch ourselves to make sure it wasn't a dream we were having!!
We saw a ton of birds, a Giraffe, Buffalo, Hippos, gigantic Crocodiles, Impalas, Warthogs & herds of Elephants trumpeting through the flats. (you should see the video we took of this)
The best part was that we had ample time to sit, to take pictures and to truly be one with nature and the wild animals.
After a delicious lunch we went back out on the safari boats to see more wildlife and bird watching. In addition to the King Fishers, Pelicans, Bird Eagles and SO MANY more birds, we again encountered the larger animals on our excursion.
On top of that, our guide had a cooler with water, African wines, beer and the Zambezi Queen's chef made some samosas and packed a few other snacks for us to enjoy while we watched intently with our jaws almost to the floor!!
Just take a look at what we saw…
Check out MORE Pictures and Videos of Our Time On Our Africa Safari & Wildlife River Cruise here
.


Land Safari in Chobe National Park
On top of all the "Water Safaris" we did from the Zambezi Queen, one day we also took Safari jeeps into the Chobe National Park to see even more wildlife during a "Land Safari".
NOTICE that each set of seats is at a different height so everyone can see no matter where you are sitting… smart engineering!
TIP: See those hats we have on our heads in the above picture? We recommend having them for your Safaris. Buy one that has a tie string so it stays on when moving in the boats & jeeps. Ours also had an extra piece that came down to protect our necks from the sun. We LOVE these hats!! You can spend hours in the sun at any given time looking for wildlife, so come prepared!
TIP for the Ladies: The terrain on the Safaris gets a little bumpy (nothing serious) but it may be a good idea to bring a couple of sports bras for more comfort! 😉
On our land safari we saw this rare species of antelope… check out this picture of how sweet he is:
And we saw SO MANY animals and birds including Lionesses, Warthogs, a family of Giraffes, Vultures, etc. Here are a couple of pictures…
Nancy said at one point "On this trip every morning I "Cannot Wait" to get out of bed to see what the day's adventures will bring. I have a perma smile BEFORE I have my coffee, now that's a BIG deal!" LOL
We also had a Safari Picnic that was tasty and gave us all time to talk about the incredible morning we were having so far!!
Nancy was hungry, she was sat first in this picture. 🙂
.




.


African Village Visit
On our last morning on the Chobe River we took a short walk through a Subia Tribe Village in Namibia where the locals invited us into their homes…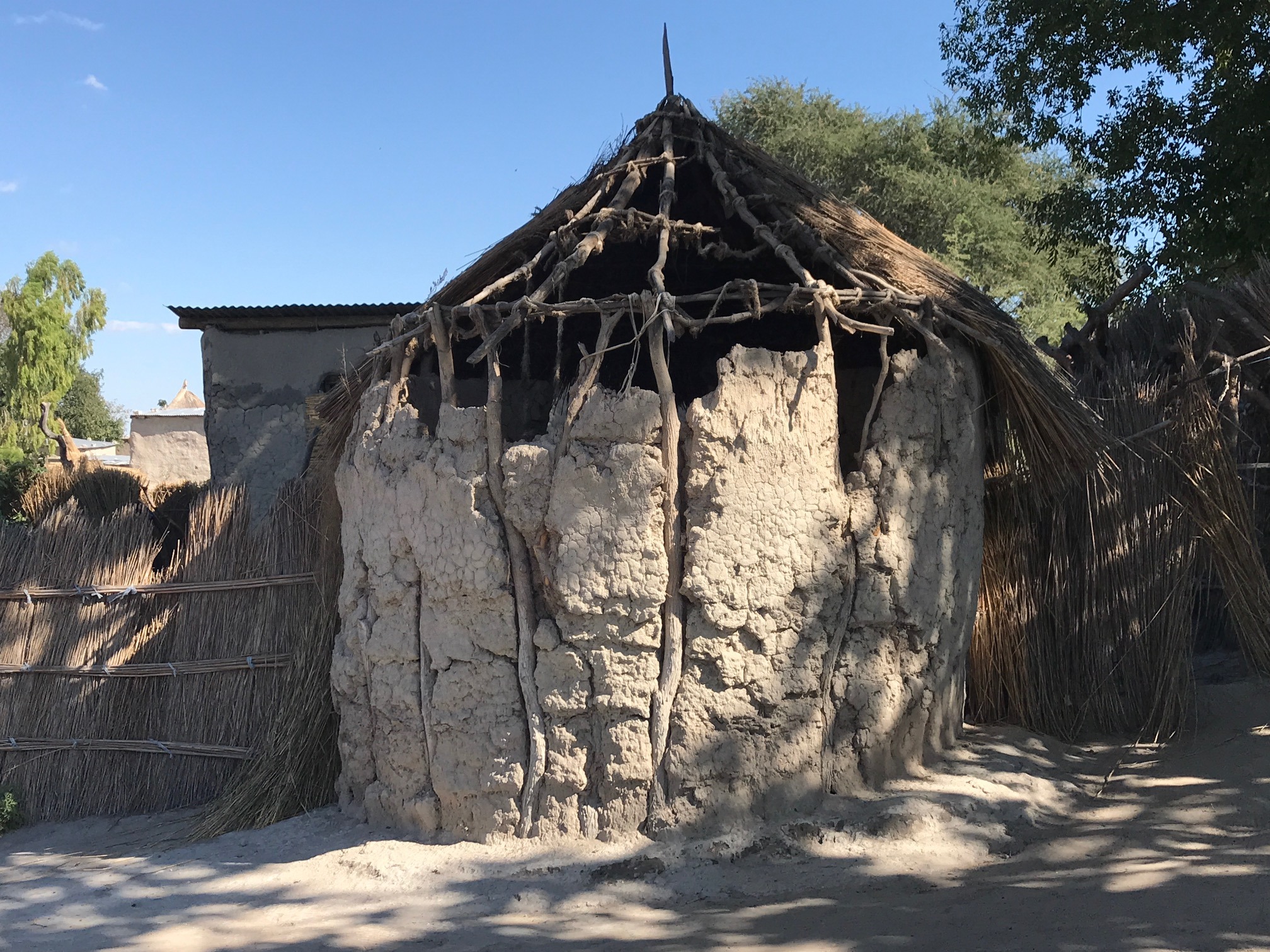 …and welcomed us with song and dance. The African people are very talented musicians and have really good harmonies. It was a joy to watch and listen to them.
Please bring along suggested gifts (that will be in your documents approx. 3 weeks before you go) for the school if you so desire. We brought pencils, paper, etc.
.
Our Onboard Experience on the Zambezi Queen Boat Overall:
"From our house boat we had the most incredible sunsets and sunrises… brushing our teeth one morning we could see Giraffes walking on the river bank. Pretty Amazing!!"
We have to say that overall our experience onboard the Zambezi Queen was REALLY good!
Unlike the Danube or Rhine River in Europe the Chobe's highlight, besides the incredible scenery, is that boat traffic was practically non-existent here.
When you look at the remote area the ship is in, you will wonder "how" they are able to provide you with the most delicious entrees.
TIP: Because it is remote, please don't expect 5 star dining onboard but DO expect fresh tasty food. If you are not a bread person- you will be by the time you disembark this boat as their fresh made breads are out of this world yummy! 🙂
We enjoyed complimentary South African wines, beer, local spirits and soft drinks while we relaxed and socialized with our new friends on the top deck that has 360 degrees of panorama views perfect for wildlife viewing.
The staff are super friendly and are there to attend to your every need. You get the sense that there is more staff then needed- not a bad complaint because it means you'll be well taken care of!!
If there was one complaint it is that the walls are thin room to room, definitely not a deal breaker, but it is something we noticed. If you are super sensitive to sound, maybe bring earplugs- we brought them but didn't need to use them– but everyone is different.
Our Suite:
Our room was one of four 300 square foot Master Suites onboard. (the other 10 suites are between 215-235 Sq Ft so all a nice size with great views!)
Have a look at a couple pics we took of it… you'll notice we have LOTS of floor to ceiling windows/sliding glass doors so we could enjoy the sunset views and the breeze!!
VICTORIA FALLS:
We were sad to leave the "Zambezi Queen" but this afternoon we arrived in beautiful Victoria Falls in Zimbabwe for two nights.
We checked into the Victoria Falls Hotel which was an old train station converted into a character hotel. It is several miles but directly behind Victoria Falls where you can sit and have lunch and watch the mist coming up from the Falls… it's literally the best hotel in the region.
From here…
We took a steam train ride that included all drinks and delicious appetizers. (the lamb is the best!)
And then we stopped on the bridge right in front of the magnificent Victoria Falls for great views and picture taking. We sat there for some time so we could take it all in, no rushing.
TIP: If you see locals selling wood and stone animal carvings, take advantage! You can get them for $5 each here and around the hotel. Whereas, if you go to the shops they will cost $12 for example.
Shopping for an African Painting?
If yes, we know just where to go. We receive no compensation for telling you this but we happened to luck out and find a local painter who did the most incredible work and we bought this painting from him of a Baby Leopard lying on a tree branch. So if you are looking to bring home a painting souvenir, this is the place to go in our opinion.
How to get there? In the main shopping district on Livingston Street, on the left hand side you will see a sign that says "Trading Post". Take a left at that sign and you will see him Painting in this square.
.
Walk to The Falls
For our 2nd day in Victoria Falls, after a delicious breakfast, we were given rain coats in preparation for the walk to see Victoria Falls up close. It's a path that has many stops along the way so you can take pictures but the closer you get the more you need to pack away your camera or it will be soaked.
We really enjoyed the 50 minute leisurely flat surface walk and got some great shots… and yes, we did end up getting soaked but it was all part of the fun! (No worries, if you really don't want to get wet you can turn back before the water starts coming down on you & you'll still have seen the Falls up close in all it's Glory!)
TIP: Wear flip flops or water shoes and quick drying/light clothes that day & take along a zip-lock bag for your camera.
.
Sunset Boat Ride on the Zambezi River
After a short bus ride we boarded a small river boat for delicious appetizers and drinks while we watched the sunset (there is NOTHING like an African sunset) and we got to see more wild animals- just look at the Elephant behind Shawn's shoulder…
…and listened to the story of David Livingston who became famous for first shedding light and helping abolish slavery in Africa. It was moving!
JOHANNESBURG, SOUTH AFRICA
Arriving in Johannesburg for two nights we settled into the Villa-style mansion called "Hotel Fairlawns Boutique & Spa", one of the best hotels in the city.
Our suite was stunning (see pictures below) and one of the top 5 hotel rooms we have ever had… we dined here & enjoyed the tastiest meal with free flowing cocktails and then had after-dinner drinks in our suite by a roaring fireplace!
Our second day in "Joburg" (as they call it) we visited the Kliptown Youth Program in Soweto— the term ghetto would best describe this town.
The people, although they have nothing materially, seemed quite happy. Not one bit of begging like you would expect. An eye opener really for us North Americans.
We learned all about Apartheid and even though it ended in 1991 it will take generations more to erase it completely.
The Kliptown Youth Program http://www.kliptownyouthprogram.org.za helps youth go to school and give them opportunity they would otherwise not have.
Here is Shawn with some students who put on a wonderful song & dance performance for us…
After our visit to Kliptown we enjoyed a traditional African lunch in a local Soweto restaurant… overall a nice day in Johannesburg!!
Tintswalo Safari Lodge at Kruger National Park
Arriving at "Tintswalo Safari Lodge" today, we were welcomed with a great lunch after we unlocked the doors to our i-n-c-r-e-d-i-b-l-e Suite that has a private pool and is surrounded by Kruger Park. (this Lodge has just 8 rooms!)
The lodge has a limited number of guests so they are able to add personalized touches and the lodge has no perimeter leaving it open to the wilderness which makes this location so unique & special.
Here are a few pictures of our lovely room…
Then we went on an Evening Game Drive in Kruger Park and sat back while our tracker, Eric, looked for foot prints and our guide, Dave, drove us to see lots of animals but the very first sighting we viewed was this (our mouths were to the floor, we are sure of it LOL)…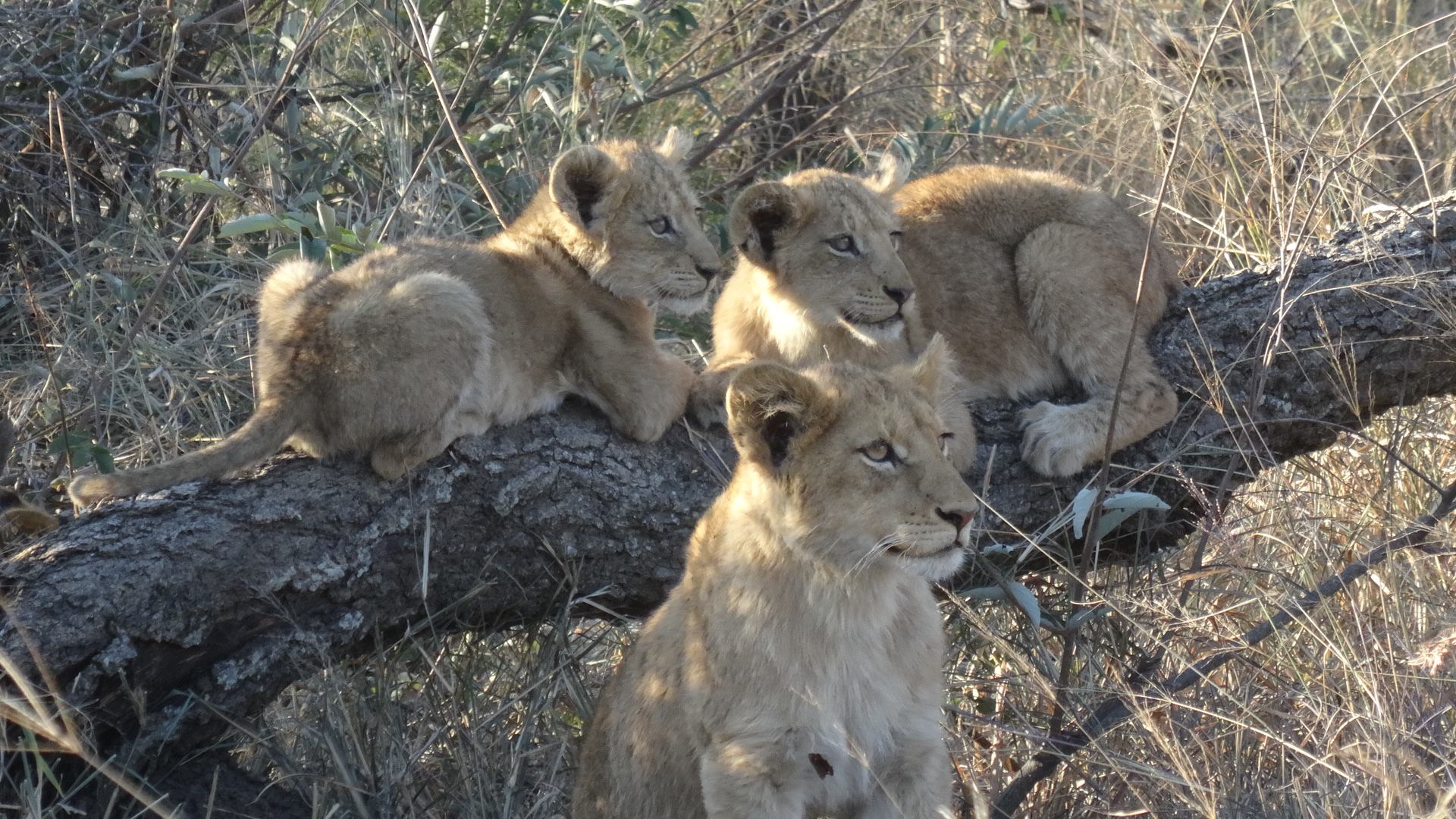 We have Video of the Cubs too!!
Eric & Dave were SO GOOD at what they did, they know the area inside out and are in their element out there!! We felt completely safe with them and they were super skilled at finding the "Big Five".
Then we had a BBQ under the stars for dinner. It was a cool evening (it's the winter months at this time in June) so they brought us hot water bottles for our laps and when we returned to our room to settle in for the night we had hot water bottles in our bed covers too… how nice!!! 🙂
Early Morning Game Reserve Drive
Our wake up call was at 5:30 am. Coffee was awaiting us in the main lodge and hot water bottles and blankets in our seats for the early morning game drive. Now that is attention to detail!!
Speaking of…
DID YOU KNOW?…
That there are different QUALITY of game drive reserves?
We noticed very few vehicles on our drives- that's because there are 10 vehicles in our area covering 23,000 hectares of park whereas another game drive nearby has 50 vehicles moving through about 7,000 hectares of game reserve park… what a difference in quality and the overall experience!!
Imagine finding a Pride of Loins (which we did see on this morning) and having two vehicles show up to enjoy the viewing- yes please! Or have 10 vehicles show up fighting for space to take pictures or to get a glimpse at the animals over all that commotion… No thanks!!
We liked our private viewing much better…
Not to mention the fact that other vehicles jam packed guests together but in ours we were spread out. We had two safari vehicles for 11 people, never having more then 6 people in a vehicle for comfort and visibility… not bad, right? 🙂
We did another Bush Drive in the afternoon and had many little surprises from the Lodge along the way, making our safari adventure even more special. We won't tell to you about them- leaving them as a surprise for you! 🙂
We luckily got to see ALL the BIG FIVE animals here in Kruger Park.
The big five animals are the Lion, Elephant, Buffalo, Leopard and Rhino. The term "Big Five" are referred to as the five most dangerous animals in Africa.
The next few days we did several game drives (2 per day plus a walking tour which was optional) here are a few pictures of what we saw before heading to the airport for home…
The Sunrises & Sunsets are Spectacular in Africa too! The sun seems so close, like you could reach out and touch it! Then, at nighttime, the sky is so clear that you can see as many stars as the eye can hold, it is breathtaking.
A FEW MORE TIPS:
With the inter-Africa flights, we checked "ourselves" in 24 hours prior for two reasons: 1. So we could select better seats and so that when we got to the airport with our group we could just go to the bag drop counter which is usually empty or close to it. Much easier!!!
What Currency should I travel with to Africa?
Locals will take USD so bring that with you and credit card(s). We will typically bring about 50 one dollar and small bills for tipping and a $1000-$2000 cash as a emergency reserve.
How will I communicate with locals in Africa?
In Africa there are many native tongue languages but English is well spoken here so you will have no trouble communicating.
Should I worry about getting sick from the food or water in Africa?
No. The water is purified and the food is good quality. We & the other guests enjoyed all of our meals without issue and lots bottled water was provided for hydration.
What to Pack?
This is a casual vacation so what we did was bring "one" outfit per day which was sports wear with a mix of layers for the heat and for the early mornings and late evenings coolness of winter (this of course depends on what time of year you visit.) We also packed a couple nice tops/shirts to look a bit more presentable at dinner in the evenings and that was it. We wore flip flops around the ship/hotels and walking shoes for daytime.
We bought a three prong African Converter from Amazon to plug in our electronics.
IMPORTANT TIP/PLEASE NOTE: This trip is truly

NOT for people who need a wheelchair or assistance

getting around. If you have a cane and can still climb stairs and have a healthy balance then this is suitable. Just so you are aware.
Well there you have it, all about our first (and not our last) incredible trip to Africa and some helpful tips to make your journey even better then ours!
Now keep in mind, we did the "Stars of South Africa" itinerary with AMA Waterways but there are 5 different itineraries to choose from so be sure to check with an expert like Shawn about those options and specific details to find out which one would be best suited for you.
With that said, of our group of 27 people, 10 flew home after Johannesburg and didn't do a Safari extension like we did at "Tintswalo Lodge" in Krueger Park and from the sounds of it 10 out of 10 of them regretted it! So, don't make this mistake and think you're going to see everything you want to on the Chobe River, the animals in this region are unique and it was a totally different experience from the Safaris up at Chobe.
Beyond that, any questions, you know we are here for you. 🙂
.
Bye for now…
We appreciate you!
Nancy & Shawn
Your Trusted Cruise Experts!