Before we answer that, we have to tell you…we did it again!! lol
When we fly to Europe we just "have" to see how many cruises we can squeeze into one round-trip airfare… so again we managed to do THREE cruises back to back to back. 🙂
.
But, it's to your advantage that we take these cruises BEFORE you, so we get the skinny on everything about these cruises and then report back to you with the do's, the don'ts and provide first hand knowledge and also give great tips!!
.
Two of which we have reviewed already so if you didn't get a chance to see them, here they are: Our Blue Danube River Cruise with Tauck & Our Western Mediterranean Cruise with Oceania and the third, we are going to tell you all about right now…
.
…here is our review of our "Holland & Belgium at Tulip Time" River Cruise that we recently experienced onboard this ship below, the "Avalon Luminary".
A TULIP TIME RIVER CRUISE
This particular River Cruise is centered around a very specific time of year when the aromatic Tulip flowers come into bloom so you get to "stop and enjoy the flowers" in early spring.
It is a special cruise because you get to see special things like in this picture below…
TIP: It's still "cool to cold" this time of year with a mix of warm weather sprinkled in so be sure to bring along a thicker jacket (and a hat and gloves just in case) as well as thin layers for the mixed climate.
Landing in Amsterdam one day prior to our Tulip Time River Cruise (which we always recommend for a couple of reasons… so you are not risking arriving to the ship late and to get accustomed to the time change and get rid of jet-lag) it was nice to know the cruise line arranged our 25 minute private transfer from the airport to our hotel in downtown Amsterdam which was right next to the River Cruise port.
***Important TIP*** If you are using the Cruiseline's Transfer be aware: the pick up is not your typical "pick up your bags off the belt and be greeted just outside the doors by a person holding a sign with your name on it"  You simply have to walk a couple minutes to a "River ship meeting point" where they will be waiting for you. Walk past the shops and pubs and you will see a large checkerboard, this is the meeting point in Amsterdam. You can't miss it, it's really big. BUT, make sure to check your documents that you receive in the mail for your trip in case this info has changed by the time you arrive in Amsterdam.
The very next morning our Cruise Director had a hospitality desk set up at the hotel from 8am-4pm for guests to get any questions answered, to enjoy drinks/snacks while waiting for the ship to be ready to board, to get tips on what to see if they wanted to go explore Amsterdam, etc.
After a nice walk about Amsterdam on our own, at 3pm Avalon transferred us from the hotel to the river ship where we were welcomed by the ship's friendly staff.
We then took some time to get acquainted with our home for the next 7 nights and see what she had to offer. 🙂
For more information about the Avalon Luminary Ship, to see pictures of her and videos of the stateroom choices– be sure to see our "Tulip Time" River Cruise Pictures & Videos and don't forget to read the captions under our photos for more details.
Starting from the beginning of our "TULIP TIME" River Cruise, here are the port towns we stopped in and what we saw and did along the way…
We began in…
Amsterdam, Netherlands
Holland's capital, a popular and modern 700+ year old city that houses an abundance of 17th Century canals and bridges makes this city a beauty to walk about, snap pictures and be in awe of her beauty.
TIP: Be super careful of the locals on bicycles, who do NOT appreciate us tourists getting in their way as they commute about the city.***
.
We took a canal cruise to admire this gorgeous place as well as a guided walking tour of Amsterdam to learn more about the history of the buildings & structures we were viewing along the way.
.
Check out some pictures we took as we walked, weaved in and out of passage ways and under small bridges during our canal ride…
Rotterdam, Netherlands
Rotterdam is a major port city in the Dutch Province of South Holland.
The modern architectural buildings are some of the most unique we have seen in Europe, wait till you see them!
From here we went to visit the famous "Keukenhof Gardens" where there are approximately 7 million bulbs planted. It truly is a sight to see!!
Check out some of the pictures we took:
TIP: You could choose from a full day or half day tour….
We decided to do the half day which gave us ample time in the Keukenhof Gardens PLUS time to have lunch onboard and stroll around Rotterdam.  If you just want to browse the gardens then this is a good option. If you like to linger, then the full day tour is for you! 🙂
.


Kinderdijk, Netherlands

This morning we stepped off the ship and took a walking tour of the UNESCO World Heritage 11th Century Windmills that were an important part of controlling water levels for a very long period of time in Kinderdijk until better technology came about.

.
We stepped back in time as we got to see the inside of one and still could smell the scent of smoke from when the millers preserved meats in the upper levels.

Here is a look at the kitchen inside the windmill…
Here are some other scenes…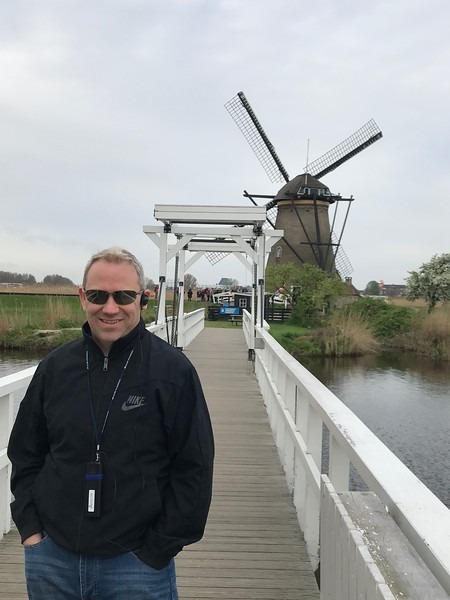 Back onboard the Captain gently sailed the scenic River so we could do one of our favorite things: sit back with a beverage and enjoy the scenery as we gently sailed by… We LOVE it!! 🙂
.
After lunch we pulled up to and docked at a small, quaint Fortress city called Willemstad where we had some time on our own to explore by foot… and that is what we did!
Here is what we saw…
Veere/Middelburg, Netherlands
Today we chose to sleep in and relax since we "just" did a tour of a Dam in Egypt but you could have gone to the Delta Works Dam this morning for a guided tour of this impressive storm surge barrier…
…after a really bad flood in 1953 something had to be done to protect the lives of the Dutch in the area so this Delta Works series of construction masterpieces were formed!
.
After another relaxing few hours sailing the river we stopped in the town of Middelburg that dates back to the late 8th or early 9th Century; Thankfully, it has been preserved and regained much of its historic and picturesque character…
.


Bruges, Belgium

Sometimes referred to as the "Venice of the North" this medieval town is a colossal of charm because it has most of its architecture intact, making it one of the most well-preserved medieval towns in Europe.

The historic center of Bruges has been an UNESCO World Heritage Site since 2000.

TIP: Be sure to leave a little room for dessert… aka Belgium chocolates when visiting as there are chocolate shops everywhere and leave a little room in your suitcase to bring some home too. 🙂

Check out some of our pictures from Bruges…
.


Antwerp, Belgium

This morning we pulled up and docked in the port city of Antwerp.

It was another perfect location where we just stepped off the ship and a local guide took us on a walking tour of this Belgium city center that is peppered with architecturally charming squares, buildings and particularly this Cathedral that Shawn is standing in front of in the picture below:

Here are a couple of other scenes we had to capture in Antwerp…

.
Another optional tour today would have been to see the city of Brussels before flying back home but because we were staying in Brussels for 2 nights after this Cruise/before our following Danube River Cruise with Tauck, we decided to sight-see in Antwerp.
But take a look at Brussels to see if you would like to take the optional tour there…
Brussels, Belgium
Belgium's fascinating capital, and the administrative capital of the EU, "Brussels" has a population of over 1.8 million… the largest in Belgium.
Be prepared for the smell of Belgium chocolates and waffles as there are stores everywhere!! We bought some chocolate as gifts for family at home and nibbled on a little, ok A LOT, ourselves. 🙂
TIP: Our guide told us to buy our chocolates and gifts away from the major squares as they hike up their prices for tourists… we took her advice and found some great deals on bulk chocolates. Remember this wise tip while you visit Brussels too!
French is spoken widely here and everyone speaks a little English so no problem communicating.
We walked about this city for 3 hours and our legs were soooo tired after that but it was well worth it and we managed to take some pictures for you like these…
Tip: These parts are similar to Amsterdam in that there are a ton of bicycles and you need to be mindful to stay in the walking lanes as you are looking around at all these fascinating sites. 🙂
So there you go, that was a taste of what we experienced while sailing this "Holland & Belgium at Tulip Time" River Cruise on Avalon Waterways.
Again, for more information about the Avalon Luminary Ship, to see pictures of her and videos of the stateroom choices- check out our "Tulip Time" River Cruise Pictures & Videos and don't forget to read the captions under our photos for more details.
And as always, any questions about this sailing or to book it or to book any other River or Ocean Cruise or Tauck Land Tour Contact Shawn…
…you know by now that he enjoys hearing from you. 🙂
We both appreciate you! 
Nancy & Shawn
Your Trusted Cruise Experts!